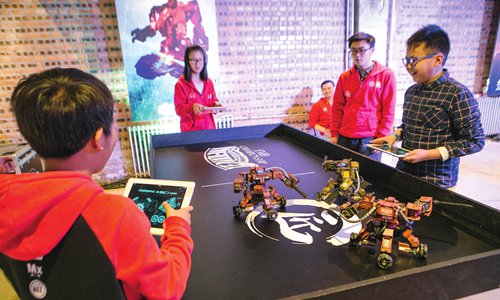 Enthusiasts try their hand at robot combat. (Photos: Li Hao/GT)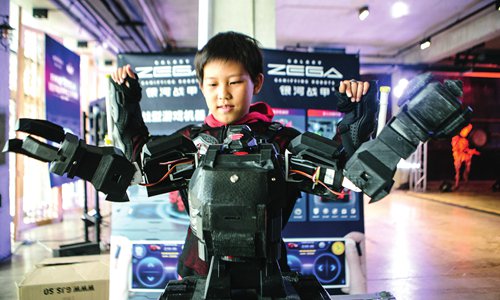 A boy imitates a robot. (Photo: Li Hao/GT)
"Come on! Come on! Yes!" shouted the audience.
Eyes glued to the stage, they were watching Major League FMB (Fighting My Bots), the first ever combat robot competition in China. Held in Beijing on the weekend of April 8 and 9, the competition saw 12 clubs competing for top honors. To win, their robots needed to either knock out their opponent's robot or get a higher performance score than their opponent in a three-minute, one-on-one fight.
Although some Chinese are fans of Western combat robot shows, such as Britain's Robot Wars and the US' BattleBots, this was the first time that they got to see the combat firsthand, and they seemed really engrossed in the battles.
Getting into the game
Fresh off their win on the morning of April 9, the five members of Shanghai club Sixth Universe Speed crowded around a screen that showed a live feed from the fighting area where a game between their soon-to-be opponent and another team was taking place.
They wanted to check out what their opponent's robot could do before their robot The Railgun went up against it in the afternoon.
At the end of the event, The Railgun had won four matches in a row and nabbed first place.
The five members behind the robot are all from the Shanghai Manufacturing and Robotics Laboratory at Shanghai University.
They started to make robots at the end of last year, and it took them about two months to prepare for the competition, including designing and assembling the robot.
Tong Zhaodong, one of the five members and the designer in the team, conceded that there were a few challenges while he was designing the robot.
The biggest one, he said, was a lack of parts and equipment to build with, as the competition was the first of its kind in China, which meant that it was hard to find professional equipment.
He added that the robot was so heavy that it took three of them to lift it.
"It has great destructive force, unlike some of the robots in other previous showcases that could be lifted by one person and were not very powerful," he said.
According to the team leader Huang Zhihui, he and his teammates decided to participate in the competition because they wanted to stand out from other laboratories and institutions that mostly use robots as a gimmick to get the public's attention.
"What we are trying to do is to combine learning with production and research," he said.
Yang Shouchen, another team member, agreed. He said the team is attempting to put theory into practice.
Besides combat robots, they have also worked hard to build other kinds of robots, such as service robots, flexible robots and medical robots, hoping to make a contribution to society.
Lu Jingjing, the CEO of Shanghai club Guanghuan, founded the club at the beginning of 2017 out of her interest in and great passion for robots.
It took her and her team members around three months to prepare their robot Azure Dragon for the competition.
She enjoyed the event a lot and thinks that it could attract young people.
"It is very interesting," she said. "It is a brilliant opportunity not only for excitement but also for brainstorming, as entrants study both their own robots and those of the other teams while competing."
As the only female participant, Lu said she hopes to expand the perceptions of what women can do in society.
"There is more to being a woman other than being a daddy's girl," she said. "Also, if more women participate in the competition, there will be more for the audience."
Growing awareness
Zhang Hongfei, the CEO of FMB, the Shanghai-based sports company that both founded and organized the Major League FMB, said that the fights between robots could be more hard-hitting and interesting than those between men as there is more to explore in the former, like the shapes of robots and the strategies being employed.
"The kind of competition my team and I are trying to hold is not one that can only be understood by experts, but one that the general public can enjoy," he said.
To attract public interest, Zhang held some competitions for amateurs and fans and provided small robots weighing two to three kilograms that could be controlled via phone to make it easier for new players to get started.
He also put on a robot camp where zero-based participants could make a 15-kilogram robot in eight weekends.
"There are events centers in Shanghai and Chongqing which are used to train, hold and promote competitions," he said.
"We will soon build one in Beijing."
The main motivation that drove him to focus on combat robots was his belief that robots and artificial intelligence will represent the most advanced level of the tech industry in the next 100 years.
He said his company plans to host more robot competitions in the near future, for example, the FMB World Cup in Shanghai in October where more than 20 teams from 16 countries and regions are expected to participate and three warm-up games in Nanchang, Jiangxi Province; Qinhuangdao, Hebei Province; and Hainan Province respectively.
Zhang said that the number of participants has been growing and expects the numbers to continue edging upward as more Chinese become aware of the competitions.
"It tripled this year compared with last year, and it doubled last year compared with the year before that," he said.
Passion knows no age
The event also attracted young kids and their parents. One little boy apparently got so excited by the robots that he sparked an interest in the adult friend of one of his parents.
Ma Feifei, a white-collar worker in Beijing, was amazed at her friend's 10-year-old son's response to the robots at the event. The child was so enthusiastic about the robots that he stayed inside the venue the whole day on April 8.
"He started to design robot models on a piece of paper after he went home that night," she said.
Inspired, Ma took her two-year-old son to the event the next day, but he was a little put out by all the flashing lights and loud sounds of metal hitting metal.
Leo, a 7-year-old boy who had been a fan of robots since his father bought him his first robot-related toy blocks as a child, was also thrilled by the robot showcase.
His father Zhang Chun, who works for a telecommunications company in Beijing, brought him to the game on April 9.
"We would have come yesterday if he had been available," Zhang said. "Robots with strange shapes fighting caught his attention. If we have time, I would be happy to bring him to more similar games."