The results are in for the Amazing China 2016 election, an annual survey where foreign experts in China vote for their favorite Chinese city.
Shanghai, China's financial hub, was selected as expats' favorite city to work and live in for the fifth year in a row.
Beijing, Hangzhou, Qingdao, Tianjin, Shenzhen, Suzhou, Guangzhou, Nanjing and Changhun followed on the list.
The election also looked at attractive Western cities in China, in which Chengdu, Chongqing, Kunming, Xi'an, Lhasa, Guiyang, Lanzhou, Nanning, Yinchuan, Xining, Urumqi and Hohhot were selected as the top 12.
The Amazing China 2016 election was conducted from November 2016 to January 2017. The results were analyzed from 30 votes from top expert panels, 1,701 signed votes from foreign experts in China and 22,780 votes from Internet users.
Attracted by jobs, deterred by pollution
When asked about the most attractive factor of working in China, the country's abundant employment opportunities topped the list at 52.7 percent. China's economic prospects accounted for 45.4 percent, and openness and degree of internationalization (39.1 percent) was selected as the third most attractive factor.
What factors attract expats to work in China?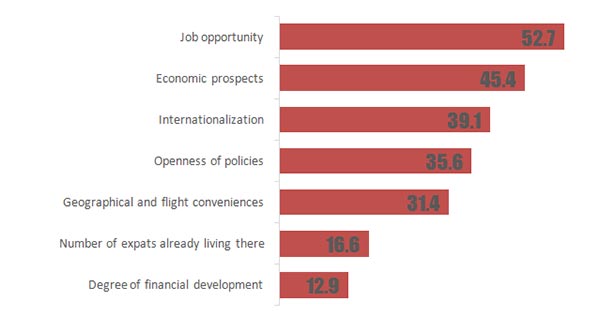 Note: Multiple answers were permitted in this question. [Graph/China Daily]
More than half (55.3 percent) of respondents said they took environmental protection and pollution into account when choosing a city in China to live and work in. Policies and administrations were also considered, and particular attention was paid to convenient border entry and exit (42.8 percent) as well as easier application for residence permits (41.4 percent).
What environmental factors affect your choice in cities?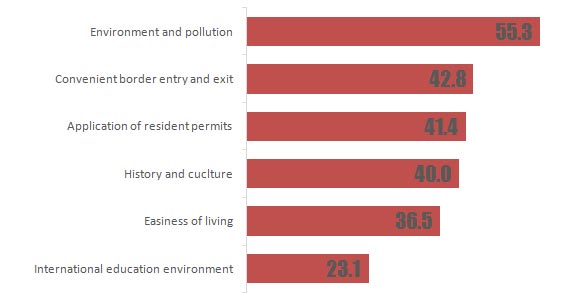 Note: Multiple answers were permitted in this question. (Graph/China Daily)