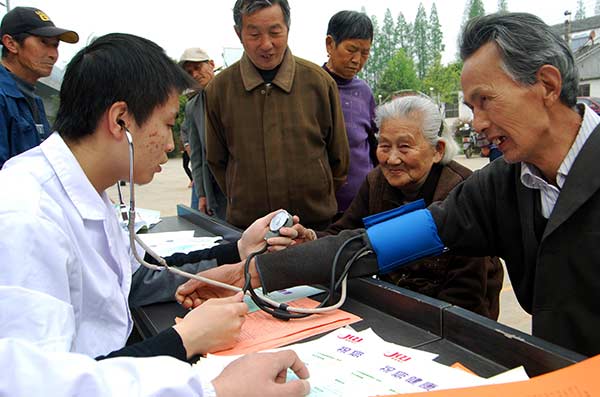 A doctor provides checkups and information on Parkinson's disease in a rural community in Zhenjiang, Jiangsu province.Shi Yucheng / For China Daily
Both environmental, genetic factors are thought to contribute to onset of disease
China's rapidly aging population is presenting a challenge to curbing an epidemic of Parkinson's disease, health experts warned on World Parkinson's Disease Day, which fell on Tuesday.
China has about 2.2 million people who suffer from the disease, a long-term degenerative disorder of the central nervous system that largely affects motor coordination, according to the National Health and Family Planning Commission.
"The incidence rate of the disease, which mainly affects the elderly, has been increasing in China due to factors such as an aging society and environmental issues such as agricultural and industrial pollution," said Tian Hong, a senior specialist at China-Japan Friendship Hospital in Beijing.
Early symptoms of the disease include shaking, rigidity, slowness of movement and difficulty walking.
The development of the disease can be slowed and symptoms can be controlled through early treatment, but there is no cure, Tian added.
Notably, he said, "we've seen an increasing number of younger sufferers". The youngest patient he has diagnosed was 19 years old.
Parkinson's disease was discovered and named about 200 years ago, but the cause remains unclear, although it is believed to involve both genetic and environmental factors.
According to Tian, numerous patients reported a history of contact with pesticides or heavy metals. Susceptible groups include farmworkers and miners.
Hu Yongsheng, a professor at Xuanwu Hospital Capital Medical University, said there are many treatments, including medication and surgery.
"Early treatment can prevent the disease from getting worse and improve the quality of life of sufferers," he said.
However, in reality, less than 40 percent of patients have access to proper medical interventions, according to regional surveys by the Chinese Medical Association.
Low awareness is largely to blame, Hu said, adding that patients often mistake symptoms for early signs of aging, such as shaking and slow movement.
Many patients only seek medical help once they have developed serious complications such as cognitive problems or the distortion of their spinal column or joints, he added.
Tian said the disease is also likely to impact a sufferer's mental health. "We used to see old patients committing suicide," he said.
Apart from common symptoms related to the motor system, others include excessive sweating, insomnia, depression and constipation, Tian added.