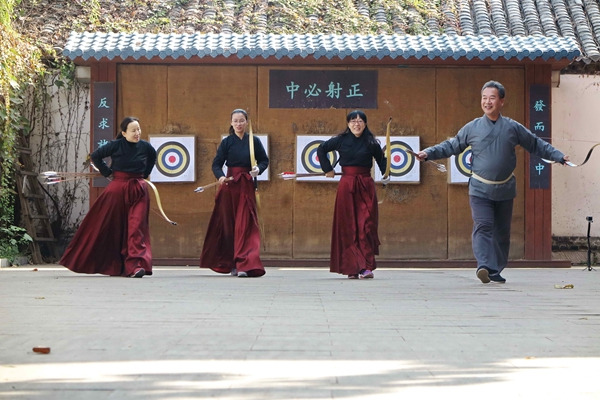 Zheng Haiting and three of his students practice his Kuixu ceremonial archery at Daming Lake in Jinan, Shandong province.Zhu Feng / For China Daily
Modern version of ancient sport emphasizes cultivation of positive attributes
If you had been at Daming Lake, a major scenic spot in Jinan, capital of East China's Shandong province, on April 2, then you may have come across an unusual sight - several people dressed in Han Dynasty (206 BC-AD 220) costumes firing bows and arrows by the lakeside.
The group were practicing Kuixu ceremonial archery, a modern interpretation of the ancient sport developed by 54-year-old Zheng Haiting.
"Our archery recalls traditional ceremonies, which is why we are dressed in traditional costume. It is imbued with traditional culture," he said.
"The aim of ceremonial archery is to help participants cultivate virtues such as mutual respect, the spirit of teamwork and the ability to keep quiet when you have a break during competition."
As one of the traditional Six Arts that have their roots in Confucian philosophy and formed the basis of education in ancient Chinese culture, archery has a long history in China. It went into a period of decline during the Qing Dynasty (1644-1911), but is now undergoing a revival.
At the end of the 30-meter-long archery range at Daming Lake is a Confucian couplet emblazoned on the target wall: "The archer who misses his mark does not blame the target. He stops, corrects himself and shoots again."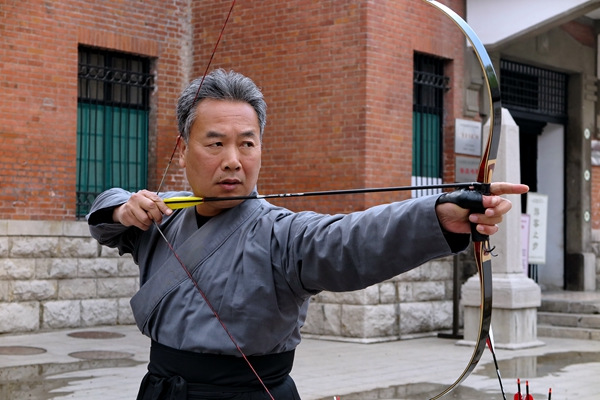 Zheng demonstrates an archery movement for his students.Zhu Feng / For China Daily
For Zheng, this embodies the positive attributes that archery can instill in its practitioners and he places greater emphasis on these, rather than an individual archer's results.
The form of archery he has developed even has the archers salute one another and their targets before beginning.
This focus on the sport's ability to nurture positive qualities in those who practice it stems back to 2006, when Zheng noticed big changes in his son after he took up Japanese archery.
"He was no longer self-centered, but actively cared for other people," Zheng recalled.
"He once helped a classmate who had a hurt leg get to school every day for a week, and he is more self-disciplined, such as with his new habit of getting up at 6 am every day."
Zheng was so impressed by the changes he had observed in his son that he decided to learn Japanese archery himself. "I found it was really good for cultivating positive qualities," he said.
"But textbooks I read noted that Japanese archery originated from rites developed in the Zhou Dynasties (c.11th century-256 BC), so I thought 'why not revive traditional Chinese archery as well?'"
With that, Zheng closed his business and began learning all he could about China's archery tradition.
He summarized the procedures required and invited a professional costume designer to create the Han Dynasty-style costumes.
His efforts paid off - thousands have since come to learn from him and a junior middle school in Jinan has even included ceremonial archery in its curriculum.
Zhu Feng, whose son has been learning ceremonial archery for two years, said he had noticed a number of positive changes in the 11-year-old boy.
"The greatest change in him has been a renewed ability to concentrate. He is now more patient and listens to us," Zhu said.
Zheng's only real concern for the future of ceremonial archery is that there are not currently any nationwide standards, due to competing schools of thought on the sport.
"Although nationwide standards have not yet been formed, all of us who promote ceremonial archery agree that it should emphasize the sport's ceremonial and virtuous aspects, rather than developing it into a competitive event," Zheng said.