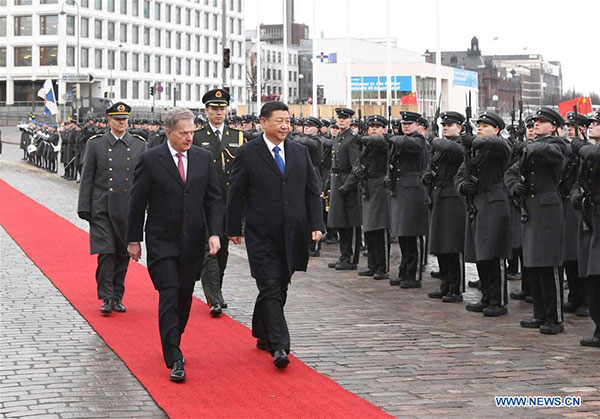 President Xi Jinping attends a welcoming ceremony held by his Finnish counterpart Sauli Niinisto before their talks in Helsinki, Finland, April 5, 2017. (Photo/Xinhua)
As Chinese President Xi Jinping wrapped up his state visit to Finland and meeting with his U.S. counterpart Donald Trump at Mar-a-Lago resort in the U.S. state of Florida from April 4 to 7, Chinese Foreign Minister Wang Yi briefed on the achievements of the visit and the meeting.[Special Coverage]
The world is undergoing great changes and adjustments unprecedented in a century, Wang said. In terms of the evolution of the international pattern, the development of domestic and foreign policies of the new U.S. administration draws global attention, while new circumstances have occurred in the European integration process, he added.
President Xi's trip focused on two countries and covered two continents of Europe and America, said Wang, noting that the tour has attracted worldwide attention and had great significance.
This successful and fruitful trip boosted stability and added positive energy to the international situation, Wang said.
UPGRADING CHINA-FINLAND TIES TO NEW LEVEL
The China-Finland relations has withstood the test of time and changing of the international situation and maintained steady and healthy development, making the two countries a model among relations between China and European countries, Wang said.
This first state visit of Xi as Chinese president to Finland started a new phase of bilateral relations, with confirmation of the establishment of a future-oriented new-type cooperative partnership in a joint declaration, which was the core political achievement of the visit, lifting the relations to a new height and offering strong guidance, Wang said.
The visit depicted new prospects of friendly cooperation, as the two countries have signed a series of cooperation documents on innovative enterprises, investment and trade, justice, science and technology, and inspection and quarantine, which shows that cooperation of the two countries have entered the track of all-round development and that the traditional friendship has produced fruitful results, Wang said.
The visit forged a new bond of people-to-people exchanges, Wang said. For example, as China will host the 2022 Winter Olympic Games, the two countries agreed to cooperate more in winter sports and preparation for the Winter Olympics, and will launch a China-Finland Year of Winter Sports in 2019, he said.
The visit stimulated new dynamic in China-Europe relations, Wang said. According to European media and people, Xi's visit conveyed confidence in the development prospects of Europe and indicated that communication and cooperation between China and Europe will be increasingly close, he added.