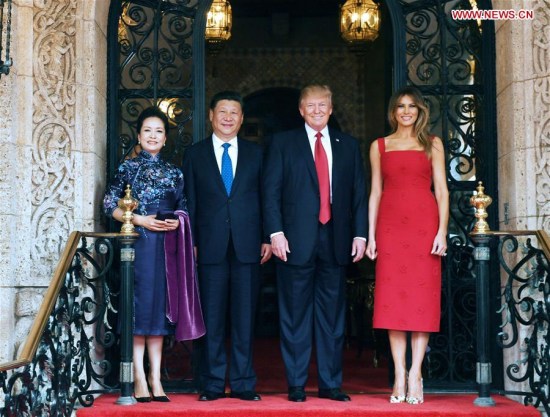 Chinese President Xi Jinping (2nd L) and his wife Peng Liyuan (1st L) pose for a photo with U.S. President Donald Trump (2nd R) and First Lady Melania Trump in the Mar-a-Lago resort in Florida, the United States, April 6, 2017. Chinese President Xi Jinping met with his U.S. counterpart Donald Trump here on Thursday. (Xinhua/Rao Aimin)
Chinese President Xi Jinping on Thursday engaged with his U.S. counterpart, Donald Trump, here in a deep-going, friendly and long-time exchange, as the ever first meeting between them catches global spotlight.[Special coverage]
XI'S ARRIVAL AMID WORLD ATTENTION
Xi arrived in the southeastern U.S. coastal town of Palm Beach in Florida at noon after paying a state visit to Finland. His meeting with Trump was widely seen as an effort of both sides to chart the course of bilateral ties in a new era.
In cloudy sunshine, the plane carrying him and his wife, Peng Liyuan, landed in the early afternoon at Palm Beach International Airport.
Under the gaze of an enthused welcoming crowd, including U.S. Secretary of State Rex Tillerson and his wife Renda St. Clair, Xi and Peng stepped out of the hatch and waved before they walked down the ramp hand in hand.
During his two-day stay in the Sunshine State of Florida, Xi is expected to hold several talks with Trump at the Mar-a-Lago resort, which Trump calls "the Southern White House," to exchange views on bilateral ties and major regional and global issues of common concern.
Noting that the first Xi-Trump meeting took place just two and a half months after Trump assumed office, Robert Hormats, vice chairman of Kissinger Associates, an international consulting firm based in New York City, said such an early tete-a-tete will not only benefit both countries, but also serve "multilateral interests."
A successful presidential meeting will publicly convey a message that the two countries are not caught in an "adversarial relationship," but to work together to solve problems through "constructive dialogue," he added.
A DEEP-GOING, LONG-TIME MEETING
While meeting with Trump at the latter's Florida resort, Xi said there are "a thousand reasons to make the China-U.S. relationship work, and no reason to break it."
It takes political resolve and historical commitments from leaders of both countries to enhance the bilateral relations in the 45 years to come, said Xi, who also invited Trump to pay a state visit to China in 2017.
The Chinese president also underlined the role of four newly-established high-level mechanisms for dialogue and cooperation between China and the United States in such areas as diplomacy and security, economy, law enforcement and cyber security, as well as social and people-to-people exchanges.