Photo taken on Feb. 15, 2012 shows Xi Jinping (L), then Chinese Vice President, presents the granddaughter of his old friend Sarah Lande with a panda doll in Muscatine, Iowa, the United States. (Xinhua/Lan Hongguang)
President Xi Jinping will travel to Florida, the United States, for meetings with U.S. President Donald Trump on Thursday and Friday.[Special coverage]
In addition to being the first meeting between the two heads of state, it will be Xi's eighth trip to the United States.
Following is a summary of Xi's previous visits to the United States:
Chinese President Xi Jinping (L) and his wife Peng Liyuan wave upon their arrival in Seattle, the United States, Sept. 22, 2015. (Xinhua/Huang Jingwen)
September 2015
It was Xi's first state visit to the United States and first visit to the UN headquarters.
The visit resulted in a China-U.S. joint presidential statement on climate change released alongside a 49-item outcome list.
Concluding his state visit to the United States, Xi attended a series of UN summits and conferences in New York, which were arranged to mark the 70th anniversary of the world body.
Chinese President Xi Jinping (L) and Barack Obama, then U.S. president, take a walk before heading into their second meeting, at the Annenberg Retreat in California of the U.S., June 8, 2013. (Xinhua/Lan Hongguang)
June 2013
As Chinese president, Xi traveled to California to meet then U.S. President Barack Obama at Sunnylands, Annenberg estate in Rancho Mirage. It was the first face-to-face meeting between the two presidents.
Xi and Obama held two rounds of talks over two days and agreed to build bilateral ties featuring no conflict, no confrontation, mutual respect and win-win cooperation.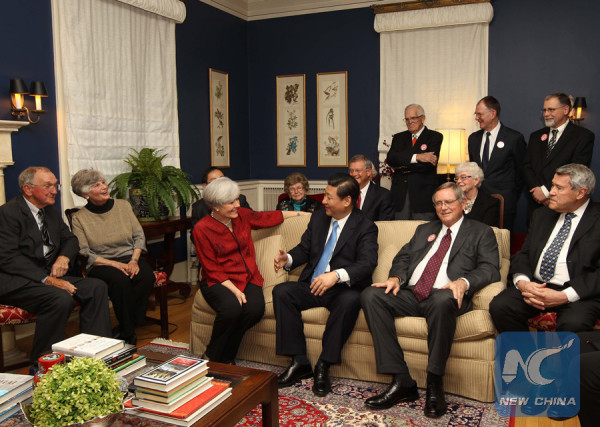 Photo taken on Feb. 15, 2012 shows Xi Jinping (3rd R, front), then Chinese Vice President, joined dozens of Americans for tea at a local house owned by his old friend Sarah Lande (3rd, L) in Muscatine, Iowa, the United States. (Xinhua/Lan Hongguang)
February 2012
As Chinese vice president, Xi visited Washington DC, Iowa and Los Angeles during a five-day trip. In Iowa, he visited a dozen acquaintances he met during his 1985 visit.
2006
As party chief of East China's Zhejiang Province, Xi led a delegation on economic and trade cooperation and communication to the United States. The delegation attended the "Zhejiang Week" trade mission and was present at a celebration for the 25th anniversary of the establishment of friendly province/state relations between Zhejiang and New Jersey.
1993
East China's Fujian Province sent a friendship and trade delegation to the United States. Xi, who was then party chief of Fuzhou City, was a member of the delegation. Besides cultural exchanges and trade talks, Xi talked to overseas Chinese in New York and Los Angeles.
1992
As party chief of Fuzhou City, Xi led a municipal trade and commerce delegation to the United States.
File photo taken in 1985 shows Xi Jinping, then secretary of the Zhengding County Committee of the Communist Party of China, poses for a photo as he visits San Francisco in the United States. (Xinhua)
1985
This is believed to be Xi's first trip outside China and perhaps his first and only experience of staying with an American family. He was then a young and promising junior official, party secretary of Zhengding County in China's northern province of Hebei. He led a five-person agricultural delegation to Muscatine, Iowa.
During his stay, Xi visited farms, attended a birthday party and picnicked on a boat with his hosts on the Mississippi River.