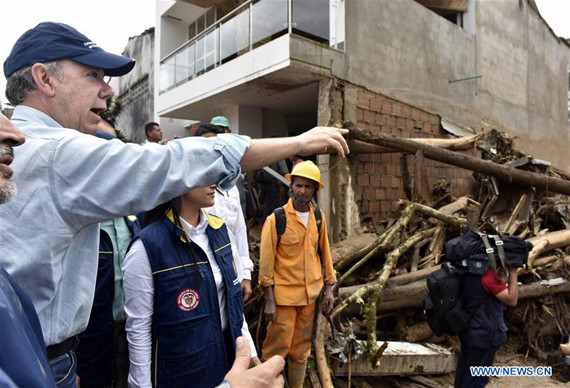 Image provided by Colombia's Presidency shows Colombian President Juan Manuel Santos (L) visiting the site of landslide in Mocoa, capital city of Putumayo department, Colombia, on April 1, 2017. At least 154 people were killed in a landslide in Mocoa, said Colombian President Juan Manuel Santos on Saturday. (Xinhua/Cesar Carrion/Colombia's Presidency)
Flooding and landslides have killed at least 193 people and injuring 202 others on Saturday in the Colombian city of Mocoa, the capital of southwestern Putumayo department.
"Unfortunately the most recent figure for the tragedy in Putumayo is: 193 dead and 202 wounded. Solidarity with their families," wrote Colombian President Juan Manuel Santos on his Twitter account.
Most of the injured people are treated at local hospitals and 22 of them were transferred to health centers in neighboring cities.
The death toll is likely to rise as a number of residents remain missing in the town of 43,700 inhabitants, and the exact figure has not yet been officially announced.
The search was temporarily suspended due to a lack of electricity in the landslide-hit area.
Colombian daily El Tiempo reported that heavy rains caused three area rivers -- the Mocoa, Sangoyaco and Mulatos rivers -- to overflow early Saturday, unleashing what local media described as an "avalanche" of muddy water that washed away homes, bridges and vehicles.
Some 17 city districts were affected by the torrent and Santos immediately traveled to the city on Saturday to direct recovery efforts and mobilized the army, police and air force to join rescue operations.
The president declared a state of emergency in Mocoa earlier Saturday to facilitate rescue operations and aid.
"We are going to make an action plan with the government and all the organizations here to start the whole process of humanitarian aid, take care of the wounded, serve the deceased and to begin to restore the services that were suspended," said Santos.
The streets of Mocoa are filled with mud, debris and broken trees, and commercial businesses are mainly closed.
Electricity supply is cut off in about half of the Putumayo department because several stations were destroyed by landslides. Water supply is also affected and the government has sent 20 tanks to deliver water to local people, according to the president.
Police officer Deciderio Ospina died while attempting to rescue a family that was calling for help, police said.
Images of the tragedy showed volunteers and army troops trying to sift through the slippery, muddy wreckage of buildings to rescue survivors or recover the bodies of victims.
Countries throughout Latin America, as well as several European countries, expressed their solidarity with Colombia and offered aid.
Putumayo, in Colombia's Amazonian region, borders Ecuador and Peru. According to the state meteorological agency, March was Colombia's rainiest month since 2011.
Since December, more than 90 people have died in neighboring Peru which has been lashed by torrential rains sparked by the so-called Coastal El Nino phenomenon.