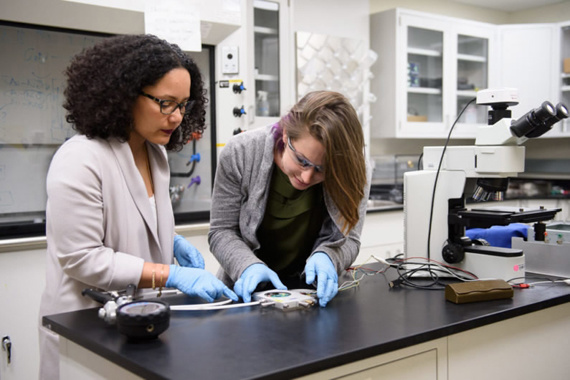 Professor Debbie Senesky, left, works with graduate student Caitlin Chapin on electronics that can resist extreme environments. (Photo/Stanford University)
Researchers at Stanford University are working on tiny, nano-sized materials to develop electronics resistant to heat, corrosion, and radiation to hopefully withstand extreme environments in space and on Earth.
The efforts, now undertaken at the Stanford Extreme Environment Microsystems Laboratory, or the XLab, are intended to tackle the acid rains on Venus, radiation in space, and the heat of car engines.
Behind its thick swirling clouds, Venus is hiding a hot surface pelted with sulfuric acid rains. At 896 degrees Fahrenheit, or 480 degrees Celsius, the planet's atmosphere would fry any of today's standard electronics.
"If we can understand the history of Venus, maybe we can understand and positively impact the future evolution of our own habitat," said Debbie Senesky, assistant professor of aeronautics and astronautics and principal investigator at the XLab.
One hurdle to studying extreme environments is heat. Silicon-based semiconductors, which power smartphones and laptops, stop working at about 572 degrees Fahrenheit, or 300 degrees Celsius.
As they heat up, the metal parts begin to melt into neighboring semiconductors, and don't move electricity as efficiently.
Ateeq Suria, a graduate student in mechanical engineering, overcame this temperature barrier by making use of ultra-clean work spaces to create an atoms-thick, heat-resistant layer that can coat devices and allow them to work at up to 1,112 degrees Fahrenheit (600 degrees Celsius) in air.
Senesky said that if their fabrication process for nano-scale materials proves effective, it could get incorporated into technologies being launched into space. "I'm super excited about the possibility of NASA adopting our technology in the design of their probes and landers."
Current technology to monitor and optimize engine performance can't handle this heat, which causes errors because measuring devices have to be placed far away from the pistons.
Electronics designed to survive the intense conditions of space could be placed next to the engine's pistons to directly monitor performance and improve efficiency.
Other fiery, high pressure earth-bound environments that would benefit from these robust electronics include oil and gas wellbores, geothermal vents, aircraft engines, gas turbines and hypersonic structures, the researchers said.