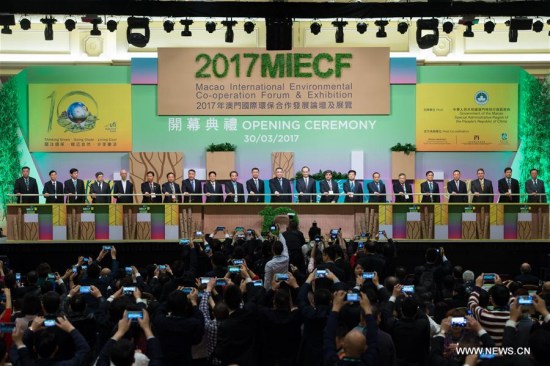 Guests attend the opening ceremony of Macao International Environmental Co-operation Forum and Exhibition (MIECF) in Macao, south China, March 30, 2017. MIECF will be held here from March 30 to April 1. (Xinhua/Cheong Kam Ka)
The 2017 Macao International Environmental Cooperation Forum & Exhibition (MIECF) started on Thursday, with top industry professionals and decision makers gathering to exchange ideas and business opportunities.
In his speech at the opening ceremony, Macao Special Administrative Region (SAR) Chief Executive Chui Sai On said environment protection is a key agenda in national and regional development. He hoped that Macao would take the opportunity of the Belt and Road initiative and build a global platform for green industry.
The MIECF was first launched in 2008 and this year witnesses the 10th edition, which will feature "Innovative Green Development for Sustainable Future" as the main theme, to enable decision makers and industry players from over 50 countries and regions to collaborate in the field of sustainable development through case studies, technology exchange and enhanced interaction, and to develop practical solutions to tackle challenges on industrial and social development.
The three-day event also hosted more than 450 exhibitors from 17 countries and regions. Netherlands Consul General in Hong Kong and Macao Annemieke Ruigrok led a team of companies from Netherlands to the exhibition. She believed her country's experience and technologies in dealing with city wastes can be helpful to Macao and neighboring areas.
"Netherlands and Perl River Delta Region are very similar, they both border the sea, have lots of people in limited land. Netherlands has a good start in eco-friendly business, such as green energy and garbage recycling, we would like to share them with other cities and countries in this platform of MIECF," she said.