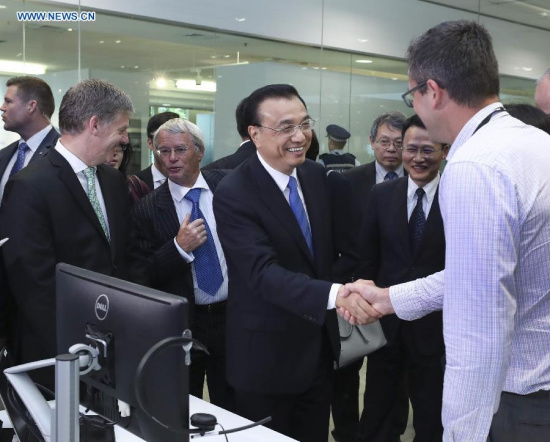 Chinese Premier Li Keqiang and his New Zealand counterpart Bill English visit a Chinese-owned research and development (R&D) center in Auckland, New Zealand, March 28, 2017. (Xinhua/Pang Xinglei)
Chinese Premier Li Keqiang visited a Chinese-owned research and development (R&D) center Tuesday, and called for closer bilateral innovation cooperation.[Special coverage]
The R&D center was established in 2014 by Chinese household appliance giant Haier and New Zealand-based Fisher & Paykel, which was bought by Haier Group in 2012. The center mainly focuses on developing cutting-edge technology in household appliances.
Li encouraged the technicians of both sides to enhance innovation cooperation, so as to create more innovative technology and high-quality products.
Noting that China regards innovation as the top driving force of development, Li said that China and New Zealand should make use of each other's complementary advantages to develop some world-leading products.
Li noted that the two countries should work together to explore third-party markets, so as to realize common benefits for each party.
Li arrived in Auckland, New Zealand's largest city, on Monday afternoon to continue his visit to the country. He is scheduled to wrap up his whole trip on Wednesday.