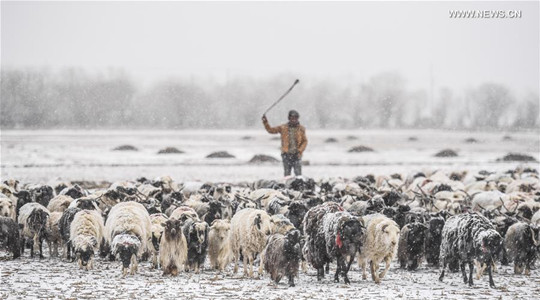 A shepherd herds sheep in Gyangze, southwest China's Tibet Autonomous Region, March 11, 2017. A heavy snowfall hit parts of Tibet on Saturday, providing better soil condition for the spring seeding. (Xinhua/Purbu Zhaxi)
More than 4,000 yaks and sheep have died after days of heavy snowfall in Xigaze prefecture, the Tibet autonomous regional government has confirmed. No human casualties have been reported.
The snow has almost stopped in most parts of Xigaze, while road access between Nyalam county and Gyirong township was reopened by 12 p.m. on Sunday, the local authorities said on Monday.
Telecommunications have been restored in most counties and power has returned to all counties except Nyalam. All schools have reopened, the authorities said.
In the past few days, heavy snowstorms have battered southwestern Tibet, with Yadong, Nyalam, Dinggye and Gyirong counties the worst affected.
Nyalam and Yadong both issued yellow alerts for snowstorms. Official meteorological reports show temperatures dropped to between 6 and 8 C.
The snow in many areas of Nyalam measured 77 cm deep on Saturday, which affected power and water supplies and caused severe traffic congestion.