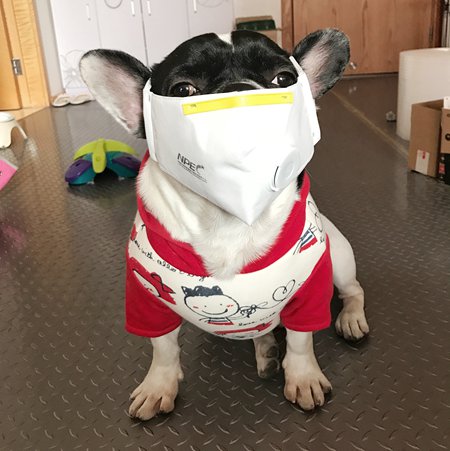 Tuotuo, a French bulldog and online celebrity, wears a smog-proof mask. (Photo/Courtesy of Tuotuo's owner)
○ Pets may suffer more from smog as the amount of air they inhale with each breath is relatively large
○ Many owners have tried methods like taking their pets to the gym and feeding pricey TCM ingredients to pets to enhance their resistance to air pollution
○ But some say food and medicines that are believed to be good for humans may be ineffective on animals
This past winter will not be fondly remembered by Tuotuo, who spent a week in a Beijing hospital suffering from pneumonia.
The doctor said that her weak immune system and the season's spirit-crushing pollution caused her illness, and told her "mother" not to open the windows or let her outside when the city is choked by smog.
Pampered Tuotuo is a French bulldog who has become a social media star ever since her owner started posting videos on Sina Weibo of her, her canine companion and their pooch pal.
"It [Tuotuo's sickness] made me realize that an air purifier is necessary, especially for bulldogs who have short noses," the owner, who goes by the Weibo username of "Tuotuo is a French bulldog," told the Global Times.
The smog has become an unpleasant seasonal guest in China, with several bouts of air pollution settling in to stay for days over the season.
This winter more than 20 cities issued red smog alerts - the highest level in China's four-tier pollution warning system.
Visibility plummeted to less than 50 meters in the capital when the local government brought the red alert into effect. The authorities told primary and middle schools to suspend their classes and advised the city's residents to avoid outdoor activities if possible.
While humans might find these restrictions annoying, they are even more frustrating for dogs.
"My dogs won't pee in the house and I have to walk them even on polluted days," said Tuotuo's owner.
According to statistics issued by the Beijing Kennel Club, which is affiliated to the Beijing Public Security Bureau, there were more than 1.5 million registered pet dogs living in the capital as of June 2016 and an even greater number of pet cats.
The heavy smog that shrouds Beijing now and then has become another headache for these pet owners.
Hit the gym
Ye Laoduo (pseudonym), who owns a husky and has more than 100,000 followers on Weibo, told blogweekly.com.cn that he received over 200 comments from netizens across the country after posting complaints about the air pollution.
When many cities were shrouded in smog this winter, Ye received messages asking him how to protect pets from the pollution.
Pet owners swarmed onto social media, including zhihu.com, a popular Chinese question-and-answer website, or websites on animal health, asking questions or exchanging their strategies.
Ye himself was also trying to figure out the best way to keep his fuzzy friend safe.
In an effort to sooth his dog Meishir who had been stuck indoors for two days and become agitated, Ye brought him to a gym early in the morning at late at night when it wasn't busy, so Meishir could run on the treadmill twice a day.
Ye watched Mershir running for more than half an hour on the treadmill with his eyes looking straight ahead. "I knew that he did not like that tedious running," Ye said. But this was what the best he could do for the bored dog.
Putting anti-pollution face masks on their pets is another measure dog owners can take during smoggy times. But most dogs apparently dislike wearing these masks.
Mershir hates wearing them and he shakes his head, bites at them or drags them off, according to Ye.
Whenever nature calls and Meishir has to relieve himself, Ye hastily takes him out for less than 10 minutes and wipes his body and eyes carefully with damp towels afterwards.
Some dog owners reached by the Global Times who put face masks on their dogs echoed Ye's remarks and also expressed concern over whether the masks are effective.