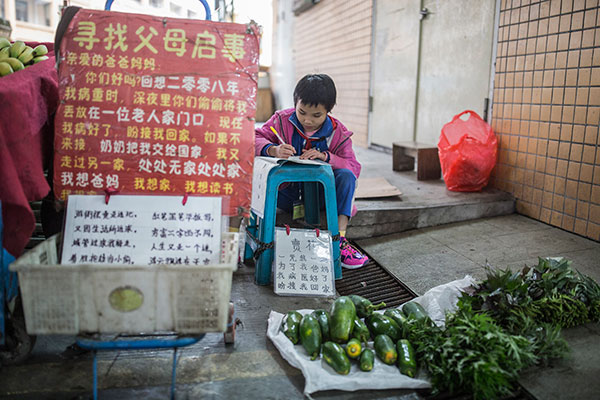 Mao Mao does her homework as she sells vegetables on a street in Dongguan, Guangdong province, on Friday. A poster beside her reads: "Dear Momand Dad... I am looking forward to seeing you and having you take me home."(Zhang Youqiang/For China Daily)
A team of four people from Wenchuan county in Sichuan province arrived in Dongguan, Guangdong province, on Monday in the hope of finding clues which might lead to the discovery of a girl's parents who have been missing for nearly nine years.
Ten years ago, Huang Mengyi, a childless pensioner from Hainan province, moved to Dongguan's Tangxia town where she met a young couple from Sichuan. "I don't know their real names, I just know they are referred to as Ah Niu and Ah Juan," Huang said.
In early May 2008, the young couple wanted to visit their home county of Wenchuan in Sichuan. They asked Huang, then 60, to take care of their newborn daughter, Mao Mao, for a few days.
"I did not agree to it, so they simply left the girl in front of my home. When I was awakened before dawn by the baby girl crying, I went outside to find her parents had gone," Huang said.
On May 10, 2008, the girl's parents called Huang, promising to return to Dongguan soon, but two days later, a magnitude 8.0 earthquake struck Wenchuan.
Huang never heard from the girl's parents again, and has spent her pension on raising the girl. To help address financial shortages, Huang collected useful materials from trash to sell and planted vegetables near her home. Huang and the girl, who is now a student, sell the vegetables Huang grows.
With help from the township government, the girl attends a primary school free of charge and her meals at school are free. The local government had an advertisement published in Dongguan Daily to help locate the girl's parents two years ago, but it didn't produce any leads.
Huang said she is afraid that the girl's parents perished in the quake, which left 69,226 dead and 17,923 missing, but that she prays for the best. "If they are alive, I hope they can take her home. I am 70 and too old to raise her," Huang said.
According to a police officer from Wenchuan who only identified himself as Wang, the team of four people from his county, including two police officers, met Huang and the girl on Monday afternoon. They will meet officials from Dongguan's police and civil affairs departments in the hope of finding clues as to the whereabouts of the girl's parents, Wang said.