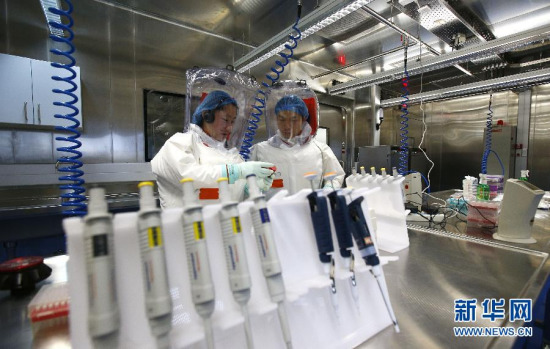 File photo of a P4 lab. (Photo/Xinhua)
China's first high level biosafety laboratory has been accredited and will be fully operational soon, the Chinese Academy of Sciences (CAS) said Friday.
The certificate was issued by the China National Accreditation Service for Conformity Assessment, according to the CAS.
The lab in Wuhan, capital city of central China's Hubei Province, will be used to study class four pathogens (P4) -- the most virulent viruses that pose a high risk of aerosol transmission.
P4 is the highest biosafety level.
The lab in Wuhan will help China prevent and control outbreaks of infectious diseases and aid research and development of antiviral drugs and vaccines, said Zhang Yaping, vice president of the CAS.
All the air from the lab will go through two advanced filters before being discharged, while solid and liquid waste will also be properly processed, according to the CAS.
The Wuhan lab has undergone a trial operation since its construction was completed at the end of 2014. Some of the core research team have been trained in France and the United States.