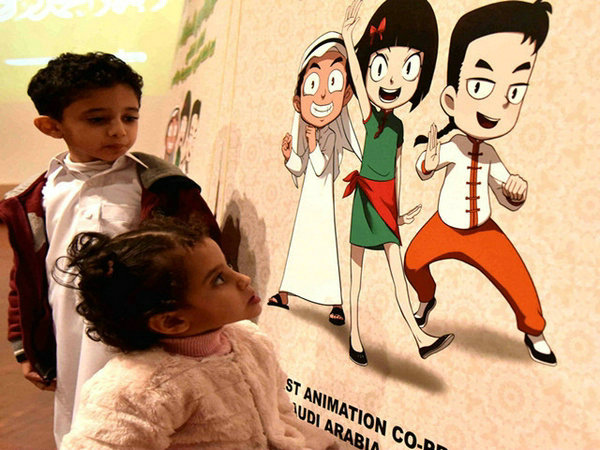 Two Saudi Arabian children look at the poster for the animation series Kong Xiaoxi and Hakim, Feb. 22, 2017. (Photo/Xinhua)
An animation series, Kong Xiaoxi and Hakim, co-produced by China and Saudi Arabia, premiered in Saudi Arabia on Wednesday.
The 26-episode series features a Chinese boy named Kong Xiaoxi and his friendship with a Saudi Arabian boy Hakim, who is from a family of food connoisseurs. Kong helps Hakim's family restaurant defeat local Western competitors by using traditional Chinese cooking methods.
As the first film and TV cooperation between the two countries, the series took about three years to complete, presenting a comprehensive picture of Chinese cuisine, clothing, martial arts as well as Saudi Arabian culture and food. It will be broadcast in the two countries and other Arabian countries.
According to Chinese producers, the plan for a second season is on the agenda. The second series will focus on Hakim's experience of learning traditional martial arts in China.