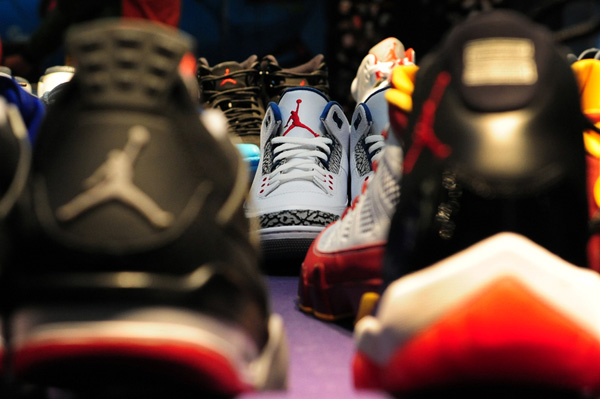 Air Jordan sneakers on display in a store in Beiing. Photo provided To China Daily
New regulations to clarify the use of brand logos and prevent infringements will come into force soon.
If you were setting up a business in China, you might think that names such as "Harry Potter", "007" or "MacKFC", would be fantastic for new products or services, and you would probably be thrilled to discover that they haven't been registered as trademarks.
In the past, you may have gotten away with registering such trademarks, but if you use any of these names after March 1, you will quickly find yourself in trouble. On that date, a regulation regarding trademark protection will come into force to prevent companies from riding on the coattails of well-known brands.
The regulation, issued by the Supreme People's Court, the nation's top legal chamber, took three years to formulate. It stipulates that well-known characters, including those in books and movies, who are protected by copyright law cannot be used as trademarks by any entity that does not hold the copyright, unless they have been granted specific permission.
To help courts at all levels to implement the new regulation nationwide, details of five rulings handed down by the Supreme People's Court in recent years have been issued as legal precedents.
In 2011, one of the benchmark lawsuits was decided in favor of Danjaq LLC, the producer of the James Bond movies, which brought litigation against a Chinese condom producer that had used the Chinese characters for "James Bond, 007" and the name in English on the logo for its products.
The company, called "Bangde 007" in pinyin, the romanized form of Chinese, and pronounced "Band 007", argued that its "Bongde 007 Bond" trademark had been approved in 2002 by the trademark review and adjudication board at the State Administration for Industry and Commerce. Moreover, it was being used for a category of goods wholly unrelated to the fictional character or the movies.
The Beijing High People's Court ruled that the company had violated the "principle of good faith" required under China's trademark law when a trademark is registered.
In addition, the prior right (or copyright) of the James Bond character had long been established, and trademarks are not allowed to infringe on an existing right, according to the court.