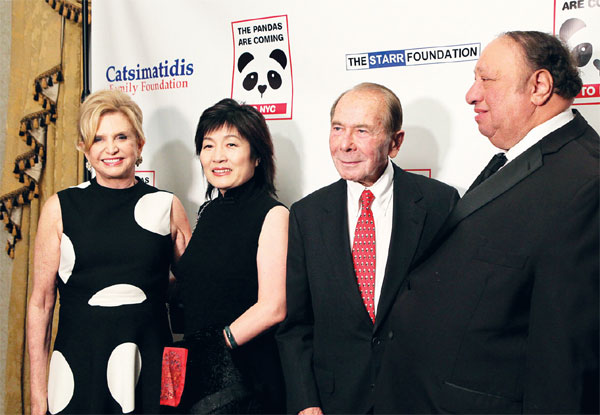 From left: U.S. Congresswoman Carolyn Maloney; Zhang Qiyue, China's consul general in New York; Maurice Greenberg, chairman of C.V. Starr; and supermarket magnate John Catsimatidis pose for photos at the Black and White Panda Ball on Wednesday at the Waldorf Astoria hotel in New York. The ball was held to raise funds to bring two pandas to Central Park by 2020. (Photo: Hezi Jiang/China Daily)
The guests wore black and white with a purpose at the Waldorf on Wednesday: to raise funds to build a panda pavilion in Central Park.
Zhang Qiyue, China's consul general in New York, entered the ballroom in a black qipao. The legendary 85-year-old model Carmen Dell'Orefice posed for photos in white gown and black scarf.
U.S. Congresswoman Carolyn Maloney, a longtime panda proponent, wore a black dress with white polka dots and shook every guest's hand, including one lady who had to take off her panda gloves.
Maloney has been determined to bring two pandas to New York since she visited Chengdu, Sichuan province, home of the giant pandas, in 2012.
"Pandas represent joy, love and friendship. It's a symbol of good luck, which our city can use more of," she said to guests at 45 tables in the Skylight Roof at the Waldorf Astoria New York hotel, where guests enjoyed dinner while videos of panda bears played continuously on big screens.
Maloney, together with Wall Street businessman executive Maurice R. Greenberg, Chinese fashion icon Yue-Sai Kan and billionaire Gristedes supermarket-chain owner John Catsimatidis, established the nonprofit group The Pandas Are Coming to NYC last year to raise private funds for the panda project.
The project has received support from New York Governor Andrew Cuomo and Mayor Bill de Blasio.
Calling the Big Apple "the perfect setting to welcome these beautiful, iconic black and white bears", Cuomo said he hopes the pandas get a habitat with unlimited supplies of bamboo, fish and fowl.
Maloney announced that the organization has started an international competition for the design of the panda pavilion, and Chinese American architect I.M. Pei will sit on the decision-making committee.