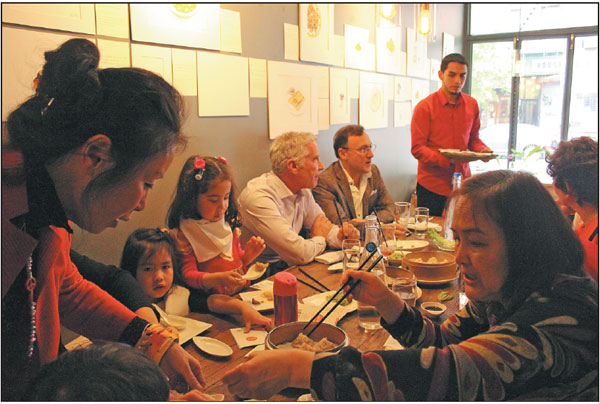 Customers enjoy dinner in the courtyard of Carma Asian Tapas in New York. Carma was opened in March, 2015 by an immigrant from Shanghai, Jonathan Ho.Hezi Jiang/china Daily
Chinese food in the United States is whetting new appetites, with more focus on taste and preparation to please, and tease, the palate.
The usual suspects remain but for more refined diners, the most-wanted list is expanding. General Tso's and sesame chicken are still on the menu but restaurateurs are attempting to redefine the cuisine, drawing inspiration from the homeland and fusion trends.
"Chinese restaurateurs have been trying to offer Chinese food as fine dining; but their efforts have remained largely unsuccessful until recently," said Tong Chen, a professor at the University of California-Irvine and author of Chop Suey, USA: The Rise of Chinese Food in America.
He said that "more professionally trained chefs and more affluent and more informed diners in Chinese restaurants" are helping drive the trend.
At La Chine, which opened in November 2015 inside the Anbang Insurance-purchased Waldorf Astoria hotel, lamb loin stir-fried with cumin costs $38. The white-tablecloth restaurant offers seasonal freshwater crabs transported by air from China.
'Going out'
Famed Peking duck restaurant Dadong is set to open in Midtown Manhattan, steps away from Times Square, in spring 2017. The 18,000-square-foot flagship location will seat 400 on two floors and feature a 4,000-square-foot rooftop bar and private dining facilities with glass exposure on three sides.
In June 1996, Wang Gang and his wife, Liang Li, opened their first restaurant, Meizhou Dongpo, in Beijing. "Someday we are going to cook for the whole world!" they said.
Nineteen years later, they oversee a corporation with more than 100 restaurants in China. Soon they are going to have five restaurants in the U.S., with a flagship venue on the Las Vegas Strip.
Meizhou Dongpo opened its first U.S. restaurant in Beverly Hills, California, in 2013, and kept its name exactly as it is in China, with dishes selected from its menu in China. The chefs, though hired locally, were sent to China for training.
"We are trying to make authentic Chinese food for America," said Wang Xiaojing, the U.S. general manager for Meizhou Dongpo.
Chinese companies have implemented a rapid "going out" strategy, buying properties around the world, merging with global companies and opening foreign subsidiaries. Restaurant brands are joining the movement.
"Fame has brought us pressure and responsibility because Chinese restaurants who are considering opening locations in the U.S. are all looking at us," said Wang. "If we are successful, they will take action. If we fail, they will be afraid of 'going out'."
California is known for authentic, diverse Chinese food, driven by a large population of new Chinese immigrants. You will find your regional cuisine in the Greater East Los Angeles area - Monterey Park, Arcadia, Roland Heights and other cities nearby - no matter which province of China you are from.
In places like Hollywood and Beverly Hills, however, residents don't see a great variety of Chinese cuisine. There are Panda Express outlets in shopping centers, and takeout restaurants tucked in malls.
This is changing. Meizhou has recently opened a rooftop dining deck at the Westfield Century City mall in Beverly Hills.
Wang and his team have worked hard to please both their American and Chinese customers as each group has its own preferences.
"We realized Americans prefer that all the main dishes be served at the same time," he said. "Chinese like the dishes to be served right, when it's ready, because they share dishes. Our servers mark the order letting the kitchen know whether the customers are Chinese or American so that we can accommodate them better."