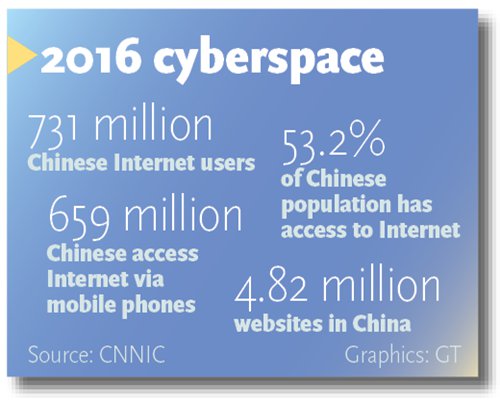 91 Chinese Net firms listed in global bourses
China has 731 million Internet users as of December 2016, roughly the size of Europe's population, according to a report released by the China Internet Network Information Center (CNNIC) on Sunday.
The number of Web users grew by 42.99 million in 2016, or 6.2 percent from the previous year, accounting for 53.2 percent of China's total population, the report said.
Li Yi, a Shanghai-based independent IT expert, told the Global Times the surge in the number of smartphones was the primary reason for the growth in Net users. Some 695 million netizens used mobile phones to access the Internet in 2016, with a growth rate exceeding 10 percent for the third straight year, the report said. Smartphone-based Internet use accounted for 95.1 percent of all Internet users, up from 90.1 percent in 2015.
The report noted that 201 million people or 27 percent of Internet users were from rural areas, or a gap of 45.2 percent in the Internet penetration rate between urban and rural areas.
"Poverty has stunted further growth in Internet users, which has kept the Net user population to around 50 percent," Li said.
Meanwhile, domestic Internet users have formed a mobile payment habit, with the number of users making payments through smartphones skyrocketing to 469 million last year, up by 31.2 percent from the previous year.
The report said searches, online music and videos, and online payments were among the most popular mobile applications.
Users of food delivery apps rose by 83.7 percent in 2016, the fastest increase. The report found that 208.6 million Chinese use their phones to order food.
However, most Internet users remain concerned about cyber security issues, according to the report. Only 28 percent of netizens said they believe the Internet was safe, while more than 70 percent said they experienced cyber security threats, of which Internet fraud is the main concern.
The Cyberspace Administration of China released its first cyberspace security strategy in December 2016, prioritizing cyberspace sovereignty ahead of the implementation of the Cyber Security Law, which takes effect in June 2017.
The government will protect cyberspace sovereignty and national security, key information infrastructure and crack down on cyber terror and crimes, according to the strategy.
"More micro regulations will be formulated in 2017 after macro policies on cyber security were introduced last year," Li said.
Li said he expects draft regulations on online shopping platforms, personal information protection and social media security.
Internet giants
Meanwhile, the report said the combined value of domestic Internet giants Tencent Inc and Alibaba Group Holdings surpassed 3 trillion yuan ($436.5 billion), or 57 percent of all domestic public Internet firms.
Ninety-one domestic Internet companies are listed on domestic and overseas stock markets, valued at 5.4 trillion yuan as of December 2016, according to the report.
Chinese companies' adoption of information technology has quickly grown over the year, with Internet use reaching 95.6 percent in 2016, up 6.6 percentage points from the previous year, the report said.
Domestic companies' online sales and purchases reached 45.3 percent and 45.6 percent, respectively, in 2016, both expanding by more than 10 percentage points.
Additionally, over 60 percent of Chinese companies have established their own information systems in 2016, up 13.4 percent from the previous year.