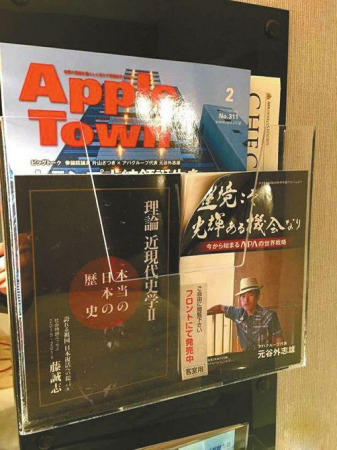 Books denying Japan's history of aggression including the 1937 Nanking Massacre and the forced recruitment of "comfort women" before and during World War II are on display in a hotel room of an APA hotel. (Photo/Xinhua)
The organizer of the Olympic Council of Asia's 8th Asian Winter Games (AWG) in Sapporo has asked Japan's leading business hotel chain APA Group to remove right-wing books in its guestrooms that sparked public anger recently, but the hotel made no replies so far, the organizer told Xinhua Thursday.
Earlier this week, two APA hotel guests from New York uploaded video message on the internet, showing the books placed in the hotel guestrooms and sold at the front desk as well. The online video was soon spread on social media and attracted tens of millions of views.
The books, written by APA Chief Executive Toshio Motoya both in Japanese and English version, are filled with right-wing revisionist views and deny Japan's history of aggression including the 1937 Nanking Massacre and the forced recruitment of "comfort women."
However, despite protest, the APA Group refused to remove the books from its hotel rooms. The group on Tuesday issued a statement on its website saying that "we have no intention to withdraw this book from our guest rooms, no matter how many denounces may be made about it from whatever viewpoint."
The 8th AWG will be held in Sapporo and Obihiro during Feb.19-26. To save cost, the 2017 Sapporo AWG has not built athletes village, but chose two local hotels as official designated reception hotels for athletes. APA Hotel&Resort Sapporo is one of the two hotels.
According to accommodation arrangement, some athletes from Chinese and South Korean delegation will be accommodated in the hotel, Toshima Kouji, a staff working in the media section of the organizing committee of the 2017 Sapporo AWG, told Xinhua in a telephone interview on Thursday.
The organizing committee has asked APA to "remove the rightwing books placed in the hotel guest rooms," however, "APA has made no replies yet," said Toshima Kouji.
The organizing committee has not yet decided what to do next if APA refuses to remove the books. But there is no plans to replace the designated reception hotel, he said, adding that the organizing committee temporarily does not consider communicating with the Chinese side over the issue.
Also on Thursday, Xinhua correspondent called the APA hotel in Sapporo, but the hotel staff answering the phone denied knowledge of the issue, and refused to reply in details.