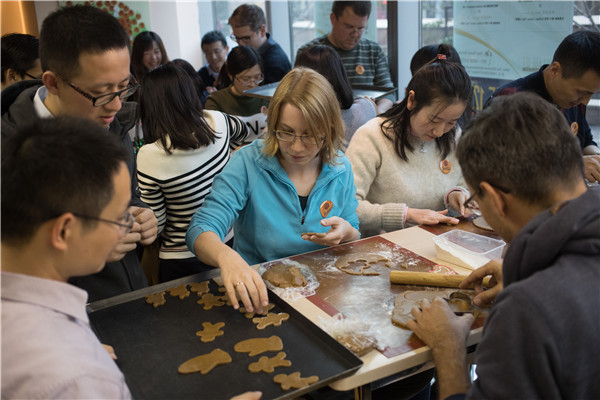 Employees of the Shanghai branch of the German company Brose participate in a team-building activity at the Village 127 French Bakery and Cafe. (Photo by Gao Erqiang/China Daily)
The Village 127 French Bakery and Cafe in downtown Shanghai had been operating in an understated way for about a year and a half before a media report sparked a storm of unfavorable comments from members of the public.
The report, published by the Shanghai Observer on Dec 1, World AIDS Day, was intended to combat HIV/AIDS-related stigma. It explained that most of the cafe's employees had been born to families affected by HIV/AIDS in the inland provinces, and stressed that the employees were healthy.
The story also featured heartbreaking accounts of how the "AIDS orphans" lived with the stigma of their parents' illness.
The cafe's owner, To Chung, said he had never deliberately concealed his employees' sad stories; he just didn't want them to be labeled as dangers to society.
"I hope the quality of the bread is the first draw for customers to our cafe and bakery, and in addition, some may want to show support after learning about our charitable activities," said the Hong Kong native and former Wall Street banker.
However, in the wake of the report, the bakery was bombarded with mixed feedback and business declined.