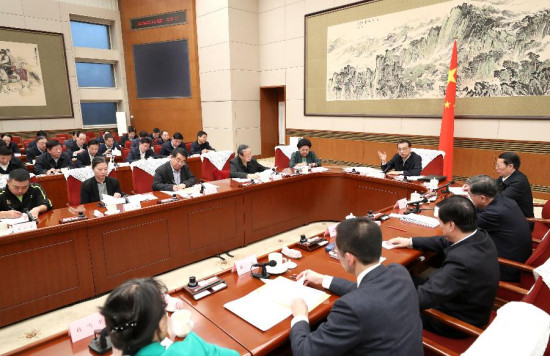 Chinese Premier Li Keqiang presides over a seminar to solicit opinions from representatives of education, science and technology, culture, health, sports sectors and of common people on the draft government work report in Beijing, capital of China, Jan. 16, 2017. (Xinhua/Ma Zhancheng)
Chinese Premier Li Keqiang on Monday chaired a seminar to solicit opinions from representatives from the education, science and technology, culture, health, and sports sectors and grassroots members of the public on the draft government work report.
Vice Premier Zhang Gaoli also attended the seminar.
Eight representatives gave suggestions on how to improve the report, which will be deliberated at the annual session of the top legislature in March.
Li said thanks to the joint efforts of the government and people from all walks of life, China achieved outstanding economic and social progress in 2016.
The purpose of the government's work is to improve the lives of the people, thus, the government must listen to all opinions and understand the concerns of the people, Li added.
The premier called for the full implementation of the policies of the central economic work conference, as they would promote the coordinated development of the economy and society, better satisfy the people's demands and expectations, and address the people's top concerns.
Speakers at the conference included Huang Wei, president of Nanjing Tech University; Shi Yigong, vice president of Tsinghua University; and Wang Anyi, a renowned writer.
Liu Guoliang, head coach of the Chinese table tennis team, and actor Ge You also made suggestions at the seminar, along with some grassroots representatives.
In response, Li called for the continued implementation of the innovation-driven development strategy, with more policy and financial input to support fundamental research, and research into increased allowances for graduate students.
He also called on the health authorities to improve hospital standards and more quality health resources to cover the grassroots.
The premier said cultural and sports industries should be more open, and inappropriate limits removed, to offer people ample opportunities to enrich their spiritual and cultural lives.
Li said the agricultural insurance system must be improved, as should the system to start a business. To this end, he advised streamlining administration processes, delegating responsibility, and providing better services to new industries and new development models.