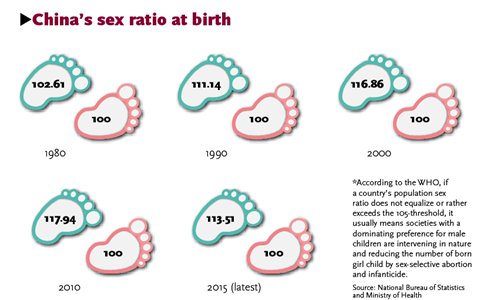 Even as China relaxes its one-child policy, the traditional preference for boys still means many will not be satisfied without a son.
Some parents are still getting illegal tests to find out the sex of their unborn child, in order to decide whether to get an abortion
"A test showed that there was no Y-chromosomal DNA in my blood, so my husband and I decided to have the abortion," said Xiao Zhu (pseudonym), a resident of Yongjia county, East China's Zhejiang Province.
Pregnant Xiao Zhu sent a sample of her blood to a Hong Kong-based medical organization to find out the sex of her fetus. The absence of Y-chromosomal DNA showed that there was a high possibility it was a girl.
The day after receiving the test result, Xiao Zhu had an abortion.
Xiao Zhu used gene detection technology, which claims to be able to predict a baby's sex by analyzing a small amount of the pregnant mother's blood.
The procedure is illegal on the Chinese mainland, so many parents-to-be are looking to Hong Kong clinics that offer this service. The government is trying to battle against countless generations of preference for boys.
Because of this tradition, the sex ratio at birth in recent years has been high, even reaching 117 boys to every 100 girls at one point. Past preference for boys has also resulted in many men being lifelong bachelors nowadays, a trend set to continue in coming decades. Even today, after China scrapped its one-child policy, young parents are still secretly following this practice in hope of getting children of both sexes.
Shady business
Staff at the Yongjia county family planning department found that several married women in the area decided to get an abortion after being pregnant for less than two months, even though they had not violated any family planning regulations. It seems to have become a trend.
Yongjia county police collected more than 100 fetus sex test results sent to local women and found that most of the tests were done by two Hong Kong-based companies, DiagCor Bioscience Incorporation Ltd and Hong Kong Laboratory.
However, an announcement released on the official website of DiagCor Bioscience claimed the company has always followed laws and regulations, and any illegal activities were conducted by some from the Chinese mainland under the company's name. "The company will take legal means to crack down on swindlers," read the announcement.
The Global Times reporter found a Shenzhen-based company using the DiagCor Bioscience name. According to the introduction on its official website, it claimed to be "China's most authoritative molecule lab" that "offers chromosomal tests to deal with people's health and symptoms."
The services listed on the company's website include non-invasive parentage testing and "sex identification after 7 weeks of pregnancy, the highest accuracy in China."
The company using the DiagCor Bioscience name could not be reached for comment as of press time.
But the Global Times reporter found many agencies offering to identify the sex of unborn babies simply by putting "Hong Kong" and "fetus sex identification" into a search engine.
An employee from an agency found via this simple search said that customers could choose to have the blood test in Hong Kong or send their blood sample to Shenzhen where the samples would be taken to Hong Kong by agency employees.
"It usually takes two days to get the results and the total fee is 4,000 yuan ($577)," said the employee, mentioning that the agency could also take the woman's blood sample in Shenzhen.
There's no guarantee of the accuracy of these blood tests, due to the unknown source of the blood taking tools, questions about whether the process is in accordance with safety requirements and the risk of damage to the sample while it is transported.