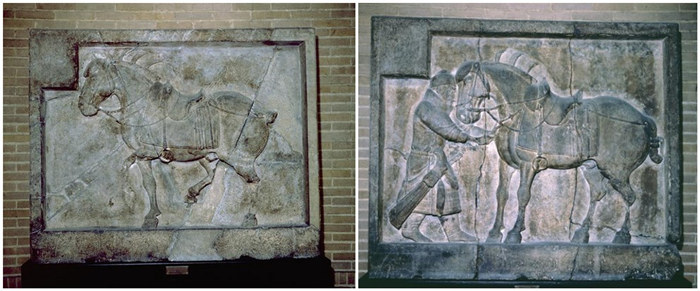 (Photos of the two horse relief scupltures at Penn Museum. (Screenshot Photo/Penn Museum website)

(File photo of a stamp collection featuring the "Zhaoling Liujun")
A Chinese museum in northwestern China's Shaanxi province has openly demanded the return of two horse relief sculptures displayed at a University of Pennsylvania museum. The sculptures were illegally sold overseas.
The Zhaoling Museum made its announcement on Jan. 11 via its official WeChat public account, calling on the University of Pennsylvania Museum of Archaeology and Anthropology (Penn Museum) to return the pieces so that the "Zhaoling Liujun," a set of six horse relief sculptures, can be reunited.
The six memorialized horses lived during the Tang Dynasty. They were allegedly the favorites of Emperor Taizong, Li Shimin. Together with other decorations and monuments, the six pieces were supposedly placed at the gate of the emperor's tomb.
"We believe it is most reasonable for the two horses to be returned to China from the Penn Museum … The University of Pennsylvania has long been dedicated to global cultural heritage protection. We hope that the Penn Museum can reach a consensus with China on this issue and make a greater contribution to the protection of the common cultural heritage of human beings," the Zhaoling Museum stated.
The other four horse sculptures are currently on display at the Forest of Stone Steles Museum in Shaanxi. Two replicas are standing in for the horses in Pennsylvania.
Citing archives from the Shanghai Museum, earlier media reports revealed that the two missing pieces were sold for $125,000 to the then-director of Penn Museum by notorious antiques smuggler Lu Qinzhai, after Lu ordered the theft of the sculptures from the tomb.
According to the Zhaoling Museum, professional principles dictate that a museum must obtain its exhibited items without any legal burden. It should not purchase relics that have not been reported to authorities, and should assist in the return of improperly obtained articles if permitted by law. For exhibits dating earlier than 1970, museums should be able to prove that its items were acquired through proper channels.
"The Penn Museum should not have purchased the two horses, which were obviously excavated after deliberate sabotage that created damage on the [sculptures'] surface. We hereby demand that Penn Museum negotiate a plan to reunite the six horses," the Zhaoling Museum stated.
It went on to articulate how the separated art pieces have damaged the completeness of the Zhaoling Liujun, which are best observed in their origin. The Zhaoling Museum also guaranteed that the two relief sculptures would be under good protection and would be available for viewing by both casual admirers and researchers.
The University of Pennsylvania and Penn Museum could not be reached for comment as of press time. It remains to be seen whether they will respond to the call.