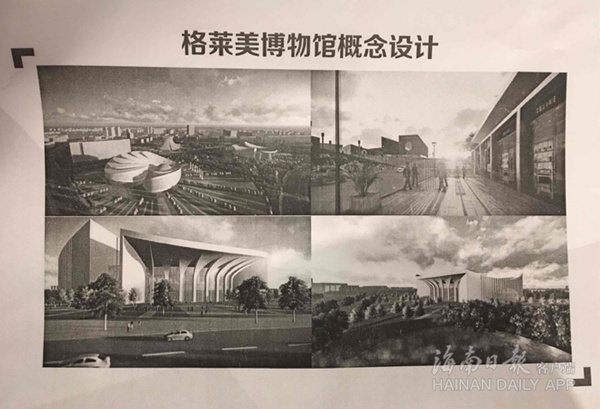 A concept design photo shows how the GRAMMY Museum Sanya will look. (Photo/Hainan Daily)
The GRAMMY Museum will open its first international outlet outside the United States in Sanya, Hainan Province, within three years, its executive director said at a ceremony in Beijing on Monday.
The ceremony saw executives from the GRAMMY Museum, The Recording Academy, Beijing SEEC Culture Media Co., Sanya Municipal Government and China Music Vision jointly sign a cooperation agreement.
The GRAMMY Museum Sanya will have approximately 40,000 square feet of exhibit space, including a temporary exhibit gallery and a theater.
"We see the GRAMMY Museum in Sanya as the start of great musical exchanges, and the opportunity for Chinese tourists to come and learn more about how our music reflects America and American cultures," said Bob Santelli, the museum's executive director.
He expected it would also be used as an educational resource. "You can imagine going into this museum and learning how recordings are made, how songs are written and how great music is produced. All of these opportunities, through technology will be available to visitors," he said.
There was also a plan to hold various music festivals and activities, and explore Chinese music, he said, adding the hope the GRAMMY Museum in the United States would eventually have an exhibition about Chinese music and Chinese musical culture.
Santelli said the GRAMMY Awards were over in one day, but, for the rest of the year, people could visit the museum to see and experience music history.
Wang Boming, chief executive officer of Beijing SEEC Culture Media Co., said the Sanya museum will have Chinese Hall of Fame, where Chinese visitors can see memorabilia of top Chinese musicians.
"Sanya has a big tourism industry, receiving 16 million tourist visits and having more than 30 billion yuan in tourism revenue in 2015," Wang said. "But the development of tourism and the development of culture are unbalanced."
He believed China could display bigger achievements in the cultural sector, while he saw the potential of Chinese music as being even bigger than the booming Chinese film industry.
Sanya Mayor Wu Yanjun, introducing the museum plan, said it would add more abundant cultural contents, services and products to the city and raise its degree of internationalization.
He said the municipal government was paying great attention to the project and was seeking to create the best environment for the museum.
The GRAMMY Museum, located in downtown Los Angeles's L.A. Live and owned and operated by AEG, opened in December 2008 on the 50th anniversary of the awards. The museum consists of four floors, including historical music artifacts displays, such as Elvis Presley's guitar and Michael Jackson's stage costume, interactive instrument stations, recording booths and a theater.
It opened its second outlet in Cleveland, Mississippi in March 2016.
According to Wang, another two GRAMMY museums could be built in China, with Beijing, Shenzhen and Qingdao being considered as candidate cities.