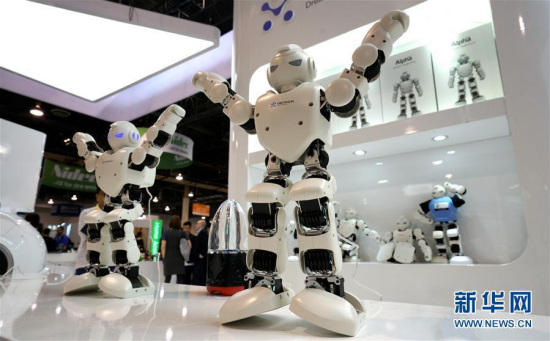 Consumer Electronics Show (CES) 2017 Las Vegas was held on Jan. 5, 2017. Robots named "UBTech Alpha 1 Pro"give performance at the show. (Photo: Xinhua/Reuters)
In the 50th year of the International Consumer Electronics Show (CES), new generation TV, autonomous driving, drones, robots, 3-D printing and virtual reality (VR) technology gave a glimpse of future life.
This year's CES held in Las Vegas between Thursday and Sunday attracted over 3,800 companies and 50,000 professionals from 150 countries and regions in the world.
In its more than 2.6 million net square feet (about 242,000 square meters) show space, about 165,000 attendees explored the current advanced technology development.
This year, artificial intelligence found its way into more products. Meanwhile, self-driving, education robots, 3-D printing and VR technology took the central stage at the show.
AUTONOMOUS, CLEANER DRIVING
Vehicle technology is making driving safer and drivers more connected, according to attendees representing new vehicle technologies and innovation at the show.
"This is a transformative time in automotive," said Patrick Little, Qualcomm's automotive senior vice president and general manager. "The pace of innovation is unprecedented."
The automotive industry is being driven by a desire to bring safety to the next level with connectivity, electrification and autonomous driving, said Little.
Little's idea was echoed by Carlos Ghosn, chairman and CEO of Nissan Motor Corp. "The destructive triangle of autonomous drive technology, electric vehicles, connected cars and services means we will see more changes in the next 10 years than we did in the last 50," he said.
"By 2030, 15 percent of new vehicles sold could be fully autonomous," he predicted.
"WALLPAPER TVs"
New generation TV products has always occupied large space of the show.
This year, LG unveiled two new products, 77-inch and 65-inch Signature-series OLED TVs with depths of only 2.57 mm and with magnetic wall brackets that eliminate the gap with the wall.