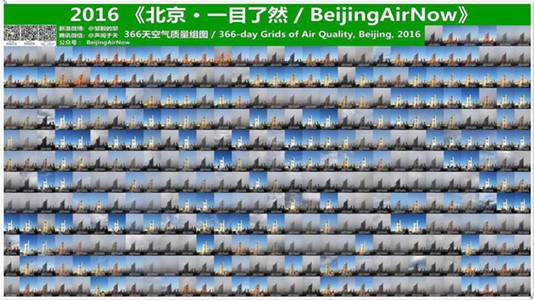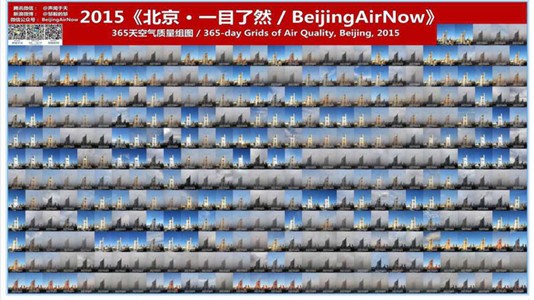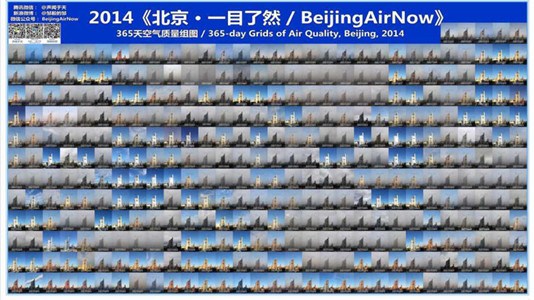 (Photo/Courtesy of Zou Yi)
Over the weekend, a Beijing-based NGO issued a set of photos documenting Beijing's daily weather in 2016. The photos offer evidence of slight progress in the capital's battle against smog, but the organization nevertheless called for greater efforts to make blue skies a common occurrence.
Zou Yi, founder of the BeijingAirNow NGO, published the set of 366 photos on Jan. 7. All the pictures were taken from the same location near the third ring road in Chaoyang district of Beijing, clearly illustrating the stark difference between smoggy days and "blue-sky days."
According to data from software developed by BeijingAirNow and several universities, the average daily concentration of PM 2.5 in 2016 was 75.26 milligrams per cubic meter – just about in line with the standard of 76 millgrams per cubic meter set by the State Council in 2013.
In 2015, the same figure was 80.28 milligrams per cubic meter. Thus, there is undoubtedly steady if gradual improvement in Beijing's air quality, reported Caixin.
However, air quality during the fourth quarter of 2016 was worse than that of 2015, the NGO noted. In 2016, the number of smoggy days in the last three months of the year was 53, eight days more than in 2015.
Zou pointed out that anti-smog efforts may be refocused to the first three quarters of each year, given that measures taken in the fourth quarter seldom bring about effective changes.
"Every time there is an orange or red alert, emissions from factories and cars are cut, but it is hard to see progress when there is already heavy smog. If such measures were taken when the air quality was not as bad, perhaps moderate pollution could be decreased to no pollution at all," Zou told People's Daily Online.
Zou added that he would continue his work in 2017 – the fifth and last year of his project – to find the root cause of smog. He also called for more participation in the fight against pollution and the campaign to raise public awareness about environmental causes.
"We have seen a disappointing result since the first week of smog in 2017, but on the bright side, it also pressed for a new understanding on battle against pollution, now that the old-fashioned, extensive way to curb pollution no longer worked. More public should be involved in the new round of anti-smog battle," he said.
In 2013, the same year Zou started his documentary project, Beijing vowed in a five-year action plan to see fewer smoggy days by 2017. The action plan also set a target of average PM 2.5 levels under 60 milligrams per cubic meter by 2017.