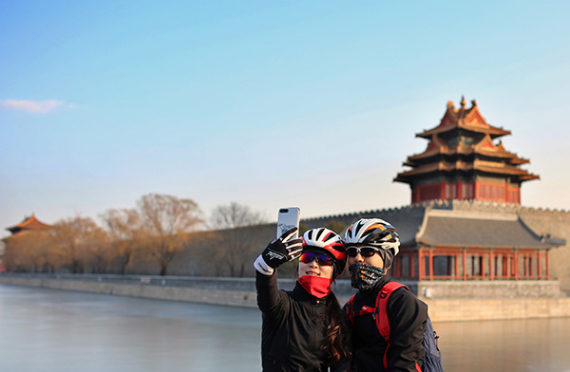 Cyclists stop for a selfie near the Palace Museum on Sunday after a cold front dispersed the weeklong smog in Beijing. (DING SHAN/CHINA DAILY)
Capital will launch environmental police force to address law enforcement issues
Beijing residents saw blue skies on Sunday, as a cold front dispersed the smog which had been hovering over the capital for the past week. Having been cooped up indoors for a week, many people took to streets and parks for the first time this year.
Beijing lifted its orange alert for air pollution on Saturday night. Emergency measures such as vehicle restrictions and the suspension of factory production ended, while construction work resumed, according to the city air pollution response headquarters.
Blue skies are forecast for the next few days.
Beijing has a four-tier warning system for pollution, with red the highest, followed by orange, yellow and blue. The orange alert means the air quality index is forecast to exceed 200 for three consecutive days.
Cai Qi, deputy Party chief and acting mayor of Beijing, has promised to take tougher measures to improve the city's air quality in 2017.
"Like many of us, I am used to checking the weather and the air quality index for Beijing first thing in the morning. I totally understand the public's concerns and complaints over air pollution," Cai said during a three-hour meeting with media and citizens on Saturday.
Cai said he was concerned that the lingering smog had caused inconvenience for residents and posed health risks.
He Ren, an expert representing the Beijing Volunteer Service Federation, asked why there appears to be a discrepancy between official pollution readings and citizens' firsthand experiences when it comes to air pollution.
Beijing waged "wars" last year against coal use in rural areas and high-polluting vehicles. The average concentration level of PM2.5-fine particulate matter measuring 2.5 micrometers or less in diameter that is hazardous to health-was 73 micrograms per cubic meter, a decrease of about 10 percent compared with 2015.
"Though we have made some progress, air pollution in winter is still a very serious issue. That's why the government must strengthen environmental protection, and step up supervision and accountability in 2017," Cai said.
"Open-air barbecues, garbage incineration, biomass burning and road dust, for example, are acts of noncompliance with regulations, and the result of lax supervision and weak law enforcement," he said, adding the that city will launch an environmental police force to address the issues in its 16 districts.