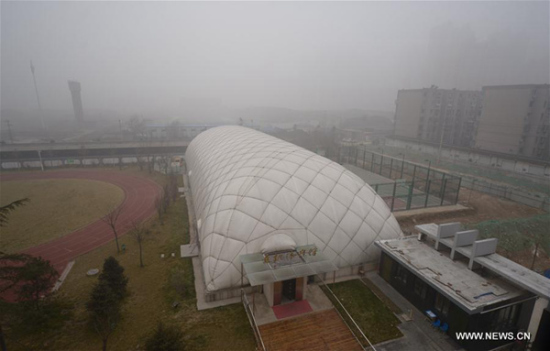 Photo taken on Jan. 4, 2017 shows the specially-built dome for athletic activities at Yuxing Campus of Huaxing Primary School in Shijiazhuang, capital of north China's Hebei Province. (Photo: Xinhua/Wang Xiao)
China's environmental ministry said Friday that it was evaluating 20 cities' emergency plans in dealing with heavy air pollution, hoping to improve their response ability.
Chen Jining, minister of environmental protection, made the remarks at a press conference, noting that the cities include Beijing, Tianjin and 18 other cities in Hebei and surrounding provinces.
The Ministry of Environmental Protection said inspections had found some cities failing to take effective measures following alerts, or their measures were impracticable.
The ministry will enhance supervision on whether local governments have practiced its precautions, according to the minister.
Chen vowed to take concrete steps and employ more stringent and effective measures to deal with outstanding environmental problems and improve environment quality.
On Monday, the ministry announced that its 10 inspection teams had found companies resuming production despite a government ban and not complying with emission reduction measures.
When authorities issue red alerts, some manufacturing companies are required to cut production and heavily polluting vehicles are banned from the roads.
The ministry had given out punishments after finding that more than 500 construction sites and enterprises and 10,000 vehicles had breached pollution response plans.
Many regions in northern China, including Beijing, have experienced heavy smog since last Friday.