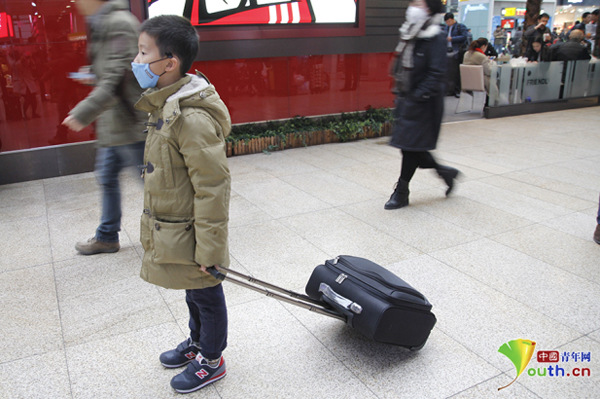 A boy wears a protective mask as he waits to embark on a train leaving Beijing as heavy smog blankets the city, Dec 8, 2016. (Photo/Youth.cn)
Beijing is planning to equip schools with air filtration devices as the city chokes on heavy smog.
Beijing's education authority said on Thursday that air purifiers will be installed in pilot primary and secondary schools and kindergartens to protect students from polluted air, with the program subsidized by municipal government.
According to a report in Beijing News, some schools in the city have installed air filtration systems with donations from businesses.
A staff member in a school equipped with an air purifier system told Beijing News that the concentration of PM2.5 had been reduced remarkably after the system was set up.
Beijing has been under an orange alert for air pollution, the second-highest level in the four-tier emergency response system, since Dec 30. To avoid polluted air, outdoor activities have been suspended in schools, kindergartens, children's palaces and extra-curricular education institutions.
The municipal education authority said that children are the future of families and the nation, and their health not only concerns their parents, but also is a top priority of education authorities.
It urged schools to continue teaching activities despite suspending classes, and raise the students' awareness of self-protection to prepare for days with heavy pollution.