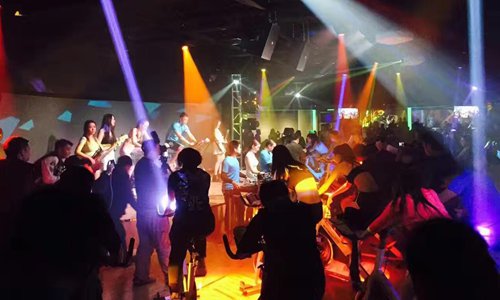 Exercisers at a DEM Cycling Party on December 22 in HITIE (Photos/Courtesy of Diao Mingming)
Katie Huang, a 25-year-old white-collar worker in Beijing, felt surprised that since last Tuesday she has managed to voluntarily go to a nearby gym after work seven days in a row. "It used to be a place I naturally associated with sweat as well as pain, and I had to screw up my courage before pushing myself to go," she said. "I never expected that I would ever be this attracted to go to a gym."
She had long been wanting to do some exercise to keep fit. However, she always ended up failing along the way because of the dreadful exercising experiences in the gym where coaches kept saying "come on" and exercisers kept groaning in pain.
"I planned to go to the gym after work, but as soon as I began to think about it, my legs would lose all their strength," she said.
She was saved by one of her friends who introduced her to a gym, which looked more like a nightclub than a traditional gym.
The lights were kept down low for mood, trendy music playlists were chosen by professional DJs and juice bars sat beside the workout space.
She noted that exercisers were training in small groups before they would buy drinks for each other and hang out in the bar area. "It was also a good place for socializing," she said. "I soon fell in love with the place."
The gym Huang went to is among the fitness centers in Beijing that are embracing the concept of making exercising fun, like HITIE that was just opened on December 22 and iBodyRock near the Sanlitun business area.
Fun and social
Graduating from a sports university and working in the fitness industry for over 10 years, Diao Mingming, operations director of HITIE, had been wanting to do something different for fitness.
"People go to gyms for a reason, but over 90 percent of them fail to reach their goal because the process is not fun," he said while on the treadmill.
"The other core team members and I decided to run the fitness center as a fun and relaxing place, so people would be willing to come here."
For example, the area for spinning is designed like a stage that includes a professional lighting system and DJs so that people are more likely to be attracted to it, he said.
He added exercises are more in the form of games than training. For instance, Pavigym is a session where the coach uses a program, similar to a dance machine, to control the lighting on the wall or on the floor for exercisers to pat or step on, tailored to the exercisers' personal physical conditions.
He noted that socializing is another function of the center, as there will be various themed parties held each month as well as during festivals, where people can drink, chat and simply let their hair down.
He said socializing can also be done when exercising in groups as there are always others doing different exercises near you.
"Exercising alone can be boring at times, while in groups, people can gain strength from encouraging each other," he said.
Zhang Yidian, the marketing director of iBodyRock agreed. He said the center focuses on sessions with a group of people ranging from five to 10, and group members can get to know each other and become friends.
"The center acts as a platform," he said.
A focus for females
Yuanyuan, founder of iBodyRock, studied in the UK. While living there, she noticed that a large number of women treat exercise as a lifestyle, and she would often see women wearing workout pants that allow them to exercise at any time and in any place.
"I even saw ladies running while pushing along a baby carriage and walking a dog," she said. "However, you rarely see this with Chinese women."
When she came back to China and reunited with her Chinese classmates at gatherings, she found that many females sat humpbacked in their chairs and they were amazed that she kept sitting up straight.
She said that women need an outlet for their emotions and traditional gyms where men can release their emotions through groaning over strength training, have little to offer to women.
Therefore, she began thinking about creating a fitness center that would act as an ideal place for women, both physically and psychologically, through offering them a wide range of training choices.
She added that exercising in the center is like taking part in a party where exercisers can make friends while exercising with lighting, music and rhythm in the background.
Besides the training areas, there is also a café. "People can come here and sip coffee after work. [It helps] make exercising become a lifestyle," she said.
Huang signed up for a yoga class where there were seven other people in the session, and she felt very self-motivated each day to go to the gym.
"As soon as I think of doing yoga to the dance music with flattering lights around, I feel every cell in my body is ready to exercise," she said. "I think I won't easily quit this time."