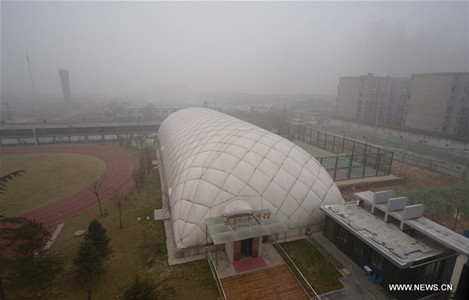 Photo taken on Jan. 4, 2017 shows the specially-built dome for athletic activities at Yuxing Campus of Huaxing Primary School in Shijiazhuang, capital of north China's Hebei Province. The dome, which is pressurized, has built-in filtration systems. Heavy smog continued to shroud north China on Wednesday. (Xinhua/Wang Xiao)
Citizens call on govt to provide more sustainable solutions to pollution
An air-filtered dome stadium was recently built at a primary school in North China's Hebei Province for students doing exercises and having PE classes outdoors in heavy smog.
The dome stadium, 50 meters long and 20 meters wide, was specially built for athletic activities at the Yuxing campus of Huaxing Primary School in the city Shijiazhuang, capital of Hebei Province, the Xinhua News Agency reported Wednesday.
The dome, which is pressurized, has a built-in filtration system.
Heavy smog continued to shroud northern China, including Shijiazhuang on Thursday.
The air quality index (AQI) remained more than 300 on Thursday in Shijiazhuang, which means severe pollution.
"The air-supported structure has an anti-smog function," Zhong Fan, vice president of MetaSpace (Beijing) Air Dome Corp, a company that has built 40 dome stadiums for schools in China, told the Global Times on Thursday.
The dome stadiums, combined with a filtration system, can keep the PM2.5 under 10 with a controlled temperature and humidity, Zhong noted.
"The dome stadium is the best choice for schools to avoid smog," he said.
Huaxing Primary School was not the first to build a dome stadium.
Dulwich British School in Beijing set up four air-supported stadium roofs in 2012 so students can still have PE classes on smoggy days, according to Zhong.
However, the dome costs more than 1 million yuan ($145,287) to build one.
"It's easier for private schools or foreign schools, but for other schools, especially public schools in China, building a dome stadium might need the permissions of several departments, which would take a long time," Zhong said.
Currently, there is no industry standard for dome stadiums, but we are trying to promote one, Zhong said.
"As a parent in Beijing, I also feel powerless (over heavy pollution)," Zhong said. "But such anti-smog projects and protecting children's health should not only be promoted by companies. Government should also be concerned about the next generation, even though it doesn't involve dome stadiums."
However, many parents also expressed concerns about the dome's safety, adding that government should come up with more sustainable solutions.
In May 2012, an air-supported dome at the Graduate School of the Chinese Academy of Social Sciences exploded for unknown reasons, though no casualties were reported, the Beijing Times reported.
Apart from air-supported stadiums, many schools also installed air purifiers, though some are still waiting for approval from the authorities and some are waiting for parents to reach a consent.
Nearly 62 percent of Chinese cities monitored by the Ministry of Environmental Protection suffered from air pollution on Wednesday, according to Xinhua.