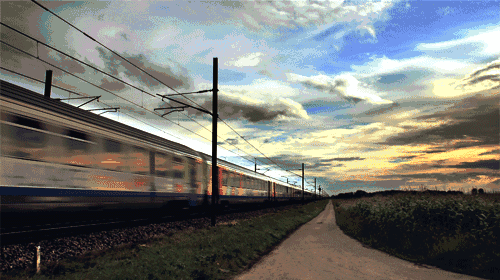 The Shanghai-Kunming Railway passes through some gorgeous countryside along its 2,266-kilometer route, leading many to dub it the most beautiful railway line in China. (Photo provided to China Daily)
Rail passengers in Shanghai from Thursday will be able to travel to the beautiful southwestern province of Yunnan in just 11 hours, as China opens its latest high-speed railway connecting the eastern metropolis with Yunnan's capital, Kunming.
From Jan 5, three China Railway High-speed (CRH) trains will depart daily from Shanghai Hongqiao Railway Station each morning, reaching Kunming the same evening.
The new railway will connect six provincial capital cities along its route from the east coast to the far southwest of the country, namely Shanghai, Hangzhou, Nanchang, Changsha, Guiyang and Kunming.
New China Railway High-speed (CRH) trains that will be used on the new railway connecting Shanghai Hongqiao Station and South Kunming Station in Yunnan province sit in a storage facility, ready to begin operation on Jan 5. (Photo provided to China Daily)
Trains previously took 39 hours to complete the 2,266-kilometer journey, but the high-speed route will cut travel times to just 11 hours.
The railway will pass through many popular tourist cities and some spectacular countryside along the way, leading many to dub the new service the most beautiful railway line in China.
Seats in the new Shanghai-Kunming CRH trains are specially designed to be much broader than those of trains used on other routes, providing passengers with a more comfortable travelling experience. (Photo provided to China Daily)
The new CRH trains will reach a top speed of 350 km/h along the route, allowing passengers to reach Changsha, the capital of central Hunan province, in just six hours.
According to Hongqiao station, ticket prices for the trip from Shanghai to Kunming on the new CRH train are 879 yuan ($127) for second-class seats and 1,475 yuan ($212) for first-class seats. As a comparison, tickets for a flight or the regular train service typically costs around 1,300 yuan and 800 yuan respectively, making the high-speed train a good option for many passengers.
Tickets have been on sale since Dec 26. Below is a timetable for newly-added CRH trains that travel from China's south Yangtze Delta River region to Kunming, Yunnan province.