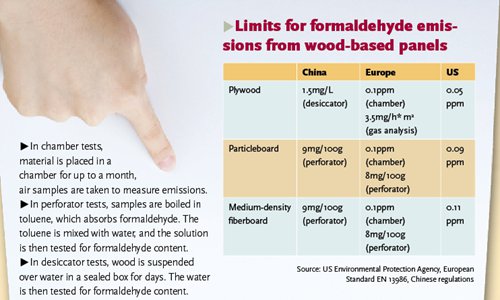 Public panic
Zhang, a pregnant woman from Hanzhong, Northwest China's Shaanxi Province was uneasy when she moved into a recently decorated apartment with her husband in October. She was worried about indoor air pollution, even though they had put supposedly toxin-absorbing charcoal bags in their house, bought green plants and opened their windows often.
She asked for advice on an online parenting community, and to her surprise, nearly all the 46 comments suggested she move out of the house for the sake of the baby. Two parents were even convinced that their friends' kids had caught leukemia from living in newly decorated houses.
Zhang's worries are common. In 2006, the country's first lawsuit over excessive formaldehyde emissions aroused nationwide concern and boosted public awareness of indoor pollution. Mawei district court in Fuzhou, East China's Fujian Province, sentenced a decoration company and a panel maker to pay a couple 170,000 yuan ($24,470) in compensation for their role in the death of the couple's daughter, who was diagnosed with leukemia after living in a newly decorated house for a year. Air quality tests showed that the levels of formaldehyde in the house's air was 0.39 mg per cubic meter, nearly five times the national standard for home air quality.
In recent years, indoor air pollution-related diseases have been reported more and more, especially those related to formaldehyde, which can irritate the skin, eyes, nose, and throat. High levels of exposure may cause some types of cancers.
In 2004, the International Agency for Research on Cancer reclassified formaldehyde from "probably carcinogenic to humans" to "carcinogenic to humans" based on increased risks of cancer of the upper throat.
In China, it is often connected to leukemia, with some medical workers finding evidence of this link.
After a five-year survey of 570 acute lymphocytic leukemia child patients and 1,000 healthy minors, Fang Yongjun, chief hematology physician at Nanjing Children's Hospital, and his team found a connection between home renovation and developing the disease. They claim to have shown that moving into a house within the six months following its decoration will increase a child's risk of getting the disease 4.76 times, according to a 2012 report by xhby.net, a news portal based in Jiangsu Province.
Zhang's mind was not set at ease until her husband spent tens of thousands of yuan on air conditioners and an air purifier which all claim they can help eliminate formaldehyde.