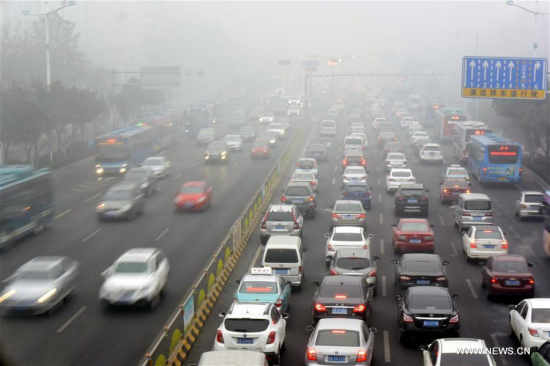 Photo taken on Jan. 4, 2017 shows the downtown aera of Jinan City wrapped in fog and haze in east China's Shandong Province.(Photo: Xinhua/Zhu Zheng)
Nearly 62 percent of Chinese cities monitored by the Ministry of Environmental Protection suffered from air pollution Wednesday, providing fresh evidence of the environmental challenges facing the country.
Of 338 cities under real-time monitoring by the ministry, 7.1 percent, including the northern city of Tianjin, were hit by serious air pollution, with air quality index (AQI) readings exceeding 300 as of Wednesday.
Another 24.9 percent of the cities, including Beijing, saw heavily polluted air, with AQI readings between 201 and 300, according to real-time data at the ministry's website.
Moreover, the air in 15.1 percent of the cities, including Hangzhou in eastern China's Zhejiang Province, was moderately polluted, with AQI readings between 151 and 200.
The data also revealed 14.8 percent of the Chinese cities, including Changchun in northeastern Jilin Province, had slightly polluted air, with AQI readings between 101 and 150.
Many Chinese cities have suffered from frequent winter smog in recent years, triggering widespread public concern.
The central government has stepped up efforts to cut outdated production capacity, and dispatched inspection teams to provincial regions to supervise environmental measures at key industrial enterprises.