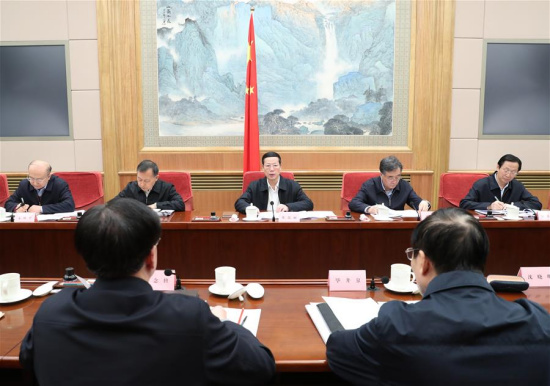 Chinese Vice Premier Zhang Gaoli (C) presides over a meeting of the State Council's food safety commission in Beijing, capital of China, Jan. 3, 2017. (Photo: Xinhua/Wang Ye)
China's top leadership has called for more efforts to ensure food safety, noting there are still many problems despite an improving food safety situation.
More efforts should be made to ensure food safety for the public, said President Xi Jinping in his latest instructions on the country's food safety work.
The president called for the most rigorous standards, the most stringent regulation, the most severe punishment and the most serious accountability for improving food safety control.
He stressed administration under the law, enhancement of work at the grassroots level and the professionalism of food safety inspectors, and demanded a comprehensive food safety system from farm to table.
Premier Li Keqiang said in recent instructions that food safety is an important hallmark for building an all-round moderately prosperous society and should be given a more prominent position this year.
Vice Premier Zhang Gaoli presided over a meeting of the State Council's food safety commission on Tuesday, which laid out measures to ensure food safety this year.
The vice premier said deeper problems affecting food safety have not been fundamentally solved and called for stricter management of food safety.
Zhang demanded quick improvement of the food safety standard system, which will be integrated with international standards, and the most stringent regulation to ensure no systemic or regional food safety risks.
Zhang also demanded relevant authorities move quickly to screen for risks and work to ensure food safety during the coming Spring Festival and "two sessions" -- the plenary meetings of national lawmakers and political advisors.
Vice Premier Wang Yang also addressed Tuesday's meeting, which was attended by officials from relevant departments and experts with the State Council's food safety commission.