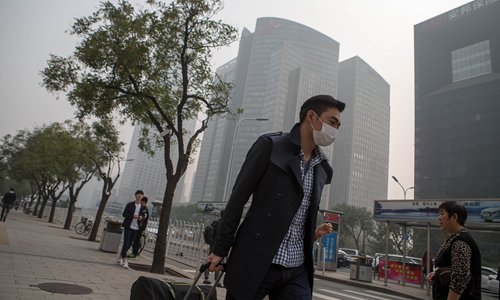 Experts predict that "smog migration" will be a long-term trend if the environment does not improve. (Photo: Li Hao/GT)
It is an ordinary winter weekday in Beijing. Majia Chuqiao, 28, gets up in the morning and opens her curtains. However, she does not see clean streets, blue skies or fluffy clouds immersed in the warm morning sunshine. There is nothing but filthy grey smog swallowing the city, which is so thick that she can barely see any buildings in the distance. The smog is here again.
"When can we leave here?" she asked her husband. A strong sense of panic and depression arose in her from the thought that she would breathe in the fine pollution particles, and they would stick in her lungs.
Her throat begins to feel itchy and uncomfortable each time she starts to think about the smog.
Majia, who works as a business manager in a top company, came to Beijing five years ago after she graduated from university. She was filled with excitement about her bright future in the capital, but now all she wants to do is get away.
"I cannot imagine what would happen in five or 10 years if I live in such a polluted environment," she said.
She is just one of the many who plan to leave the capital because of the pollution. Last week, the area experienced the most severe smog of the year. There was a red-alert, the highest warning level, issued from December 16 to 20. Knowing there is still more smog on the way, an increasing number of people are making a long-term escape plan.
In fact, there are already a number of people who have left Beijing because of the air pollution and a majority of those who left or will leave are highly-educated elites. According to a recent report by Wang Dingding, a Peking University professor of economics, the"talent loss" or "smog migration" will be a long-term trend if the environment does not improve.
Trapped in a dilemma
When Majia first came to Beijing five years ago and worked in the southern suburbs of the city, the air quality was not bad at all. With farmlands and a scenic countryside nearby, she enjoyed the natural environment very much. Later she went to Paris, France for a postgraduate program, but when she returned in 2014, things had changed. The blue skies and fresh air were gone, and in their place was the choking smog.
"I still remember the day I drove to an interview in December 2014. The smog was so thick that I could not see the cars in front of me. The visibility was so low that I felt I was in the movie Silent Hill (2006)," she said.
Majia was surprised by the fast spread of smog into Beijing's surrounding areas, but it was not until recently that she decided to leave.
Majia has a cold and she finds herself coughing more often on smoggy days. During the red-alert earlier this month, she had more phlegm than usual and felt severe pain in her throat. Moreover, she finds the haze has gradually developed into a psychological barrier as well. Each time she thinks about it she feels nervous and that she can smell the odor of smog wherever she goes, which sometimes results in physical discomfort.
In addition, she becomes sensitive to news about air pollution, and every time she reads reports about children studying and living in the polluted environment, she feels overwhelmed.
"I understand that we need to develop and keep the economy growing, and that it is hard to solve pollution problems overnight. However, when I think of the consequences it will cause to my health and that my future children will grow up here, I feel completely lost, " she said.
Majia wants to move to southern China's Guangdong Province where the natural environment is much more livable. However, her husband has a career in Beijing that he cannot give up. Given the excellent academic and business resources in Beijing, he can hardly find an equivalent job elsewhere.
A brighter career prospect or a healthier living environment? Majia finds herself trapped in the dilemma after failing to persuade her husband to move. "No matter what, I will definitely go in two years. I cannot stay for long," she said.
Heading south
Many others feel the same way, including Zhang Bin, co-founder of Air Matters, an app that shows air quality data in various locations.
Zhang, in his 30s, came to the capital from Fujian Province for his undergraduate and postgraduate degrees at Peking University in 2001. Living in Beijing for 13 years before moving to Shenzhen, Guangdong Province, he witnessed the "smog invasion" in Beijing.
"What made a big impression on me were the strong wind and sandstorms that occurred every spring in Beijing around 2003. It was not until 2008 that the media started to talk about air quality," he said.
Zhang did not take it seriously at first, but when his wife got pregnant in 2011, they witnessed several severe hazes in Beijing that pushed him to pay attention to the impact that the pollution may have on his family. It was also at this time that he started to work on the app Air Matters.
"I think the overall air quality of Beijing hasn't changed that much this decade, but the exposure of relevant data and the emphasis that media and the public attach to it have been greatly enhanced," he said.