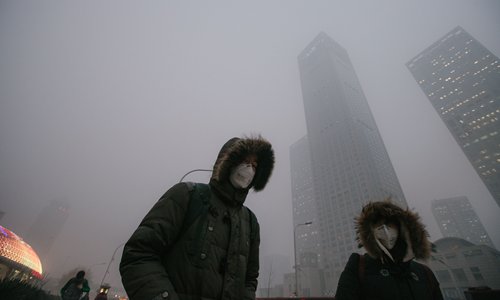 As the choking smog in Beijing causes health problems, both mentally and physically, many highly educated employees and entrepreneurs are leaving the city, resulting in economic and talent loss. (Photo: Li Hao/GT)
Researchers from Xi'an Jiaotong University in Northwest China's Shaanxi Province have developed a way to eliminate air pollutants during the coal-burning process, which they hope would significantly address the country's smog problems.
Guo Liejin, head of the research team, said the technology called "supercritical steaming coal" will generate water instead of sulfur dioxide, nitric oxide or PM2.5 particles in the oxidizing reaction process, as it normally does, news portal nbd.com.cn reported Tuesday.
The technology is among the many that aim to curb air pollution in China. Another research team led by He Kebin from Tsinghua University has come up with a list of more than 700 kinds of pollutant sources to help evaluate the effectiveness of measures for controlling the smog, news site thepaper.cn reported.
Many cities even deploy vehicles equipped with a "mist canon," which can spray water mist up to 100 meters, in a bid to devour the smog.