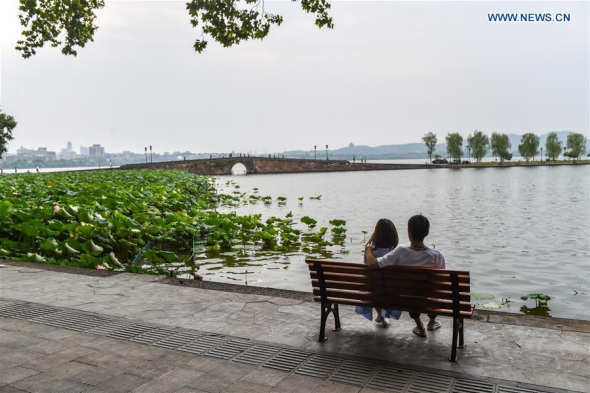 A couple watches the view of the West Lake in Hangzhou, capital of east China's Zhejiang Province, Sept. 1, 2016.(Xinhua/Huang Zongzhi)
People in East China's Hangzhou, Zhejiang province, are the happiest compared to their peers in other Chinese cities, according to a new survey unveiled Saturday.
The findings, issued by the Guangzhou-based Haoda Lifestyle Research Institute, were made after polling over 10,000 people in 32 major Chinese cities in 2016.
In the nationwide list, South China's Hainan, East China's Jiangsu and Tianjin municipality in the North were rated the top three happiest provincial areas, while Hubei, Jiangxi and Qinghai were the unhappiest.
The report looked at what were the major factors that shape people's sense of contentment, and whether it's directly related to economic status. Five components were found influential: the degree of optimism, health status, satisfaction about leisure life, marital status, and medical service satisfaction.
Income vs happiness
Does income determines happiness?
"We found that there is a turning point between income and happiness. With the increase in income, people's happiness index went up first but then it went down. People with a monthly income of 12,000-15,000 yuan ($1,700-2,100) are the happiest," said Fei Yong, head of the Haoda Lifestyle Research Institute.
"Happiness is not just about money," Fei added.
The report also revealed that people with lower education levels are happier than those with higher levels, and that those in a relationship are in better mood than single people.
In addition, owning an apartment brings more satisfaction to people in China. Meanwhile, men generally find it harder to crack a smile than women, with more pressure from life, according to the report.
Globally, the overall happiness index of China is on the rise in recent years. According to a 2016 survey from the United Nations, China ranked 83th among 156 countries in terms of happiness, higher than that in 2012 when the country was listed 112 in the UN's first World Happiness Report.