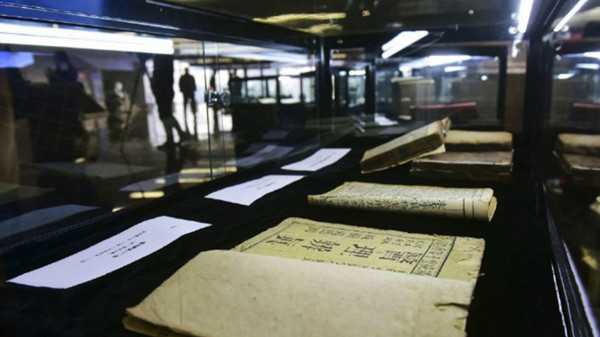 Ancient books displayed in Chen Guangwei's private library. (Photo/China Daily)
One man in China has become an unlikely ambassador of promoting reading culture at a time when young Chinese are increasingly spending more time gawking on their digital gadgets.
Chen Guangwei's private library offers thousands of books, encouraging people to read or borrow for free. The 69-year-old from southwest China's Sichuan Province has a collection of some 50,000 titles, including over 1,600 ancient scrolls.
And recently, Chen donated 1,166 rare ancient books, including some medical classics and a Kangxi Dictionary, the historical root of which could trace back to 1979, to a provincial library. Chen said he wanted the books to have a wider audience.
"The value of a book is realized more in being read than simply being cached", Chen said, adding he would continue collecting and sharing books as long as he can.
Chen's passion for reading is an indicative of his generation that prioritized reading culture as compared to the millennials.
In recent years, reading rates have plummeted in China. The average number of books a Chinese person reads a year is lower compared to Japan and South Korea. While the Japanese read 8 books and South Koreans 11, Chinese only read an average of 4.58 printed books in 2015, according to Chinese Academy of Press and Publication.
Last month, many Chinese celebrities joined the book-sharing bandwagon after actress Emma Watson publicized a British campaign that left books on the subway for people to read while commuting.
While some criticized the Chinese version of the Books on the Underground for having their own agenda, people like Chen are the unsung heroes quietly trying to make a difference, inspiring many.
But it's just not Chen's work that is inspiring, his story is equally stirring.
Chen's book collection started in 1983 when the man began to work as a recycler in an attempt to earn his family a livelihood. And while looking for recyclable trash, the man found his treasures -- he carried the worn out books home, which one day would turn into a library.
"My grandfather cherishes the books even more than his own live," said Chen Xin, his grandson.
Chen was once offered to 3,000,000 yuan (431,220 U.S. dollars), equivalent to 150 years' worth of his annual income, for his collection. However, he has declined.
After all, knowledge knows no boundaries, and one can't put a price tag on it.