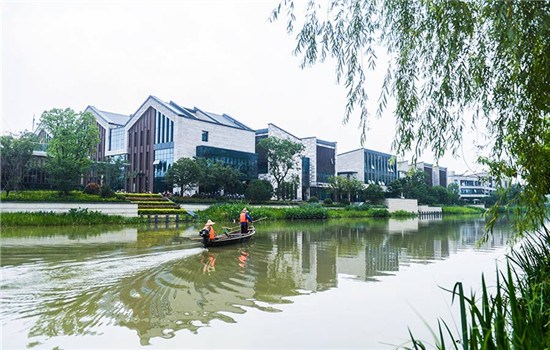 Workers clean the surface of a river in Hangzhou, capital of Zhejiang on June 17, 2016. (Photo/Xinhua)
Children play on the grass by the Cuihu Lake in Jinhua city, East China's Zhejiang province. Other kids listen to safety tips before jumping in the lake for a swim. Such a common scene could hardly be seen three years ago. Back then, the lake was black and stinky.
In 2013, a Zhejian business man's offer to pay an official 200,000 yuan to swim in a river for 20 minutes shocked the country. The ploy highlighted the status of polluted waters in a region full of water resources.
Chairman of an optical company, Jin Zengmin, had said he would like to pay the director of environment protection bureau of Rui'an city 200,000 yuan if he dared to swim in a river for 20 minutes. The river was covered with plastic garbage, and sewage from a nearby shoe factories was being discharged into the river.
The incident became a trigger for a comprehensive movement in the province to clean up the water environment.
The provincial government set a 3-year target, striving to eliminate black, stinky and garbage-covered rivers, make waters non-toxic and ultimately make them fit for swimming.
In that time, the province created new positions called river managers. There are six provincial-level river managers, 199 city-level river managers, 2,688 county-level river managers, 16,417 town-level river managers and tens of thousands of village-level ones.
Till now, 6,500 kilometres of garbage-covered rivers have been cleaned, and 5,100 kilometres of black and stinky rivers have been renovated. More than 600 towns have installed sewage treatment facilities, 208 towns have updated their sewage treatment plants, and 6,536 kilometres of sewage pipes have been added to rural sewage treatment network, making Zhejiang the first province to be fully covered by sewage treatment facilities.