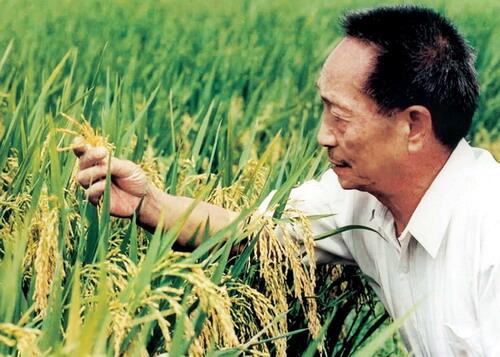 (File photo of Yuan Longping)
A scientist known as China's "father of hybrid rice" has developed a new strain that could enable the plant to adapt to more varied growing environments at a significantly lower cost.
The strain, the third generation of hybrid rice that Yuan Longping has developed, is designed to be hardier and able to withstand lower temperatures during the plant's reproductive phase.
"The third generation will also incorporate the merits of the previous two generations, and its adaptability to low temperatures will increase significantly," he said in an interview with China Daily.
Low temperatures during the reproductive phase resulted in crop failure for the second generation of hybrid rice in Anhui province in 2014, triggering government scrutiny over the adaptability of the strain. It also infuriated farmers, whose yields plummeted from an expected 7.5 metric tons to 750 kilograms per hectare, or even to zero.
Yuan said the cost of breeding the new strain has also decreased significantly, making its commercial use viable in the short term.
However, he declined to disclose the expected average unit yield of the new rice strain.
The yield of the second-generation hybrid rice reached a record average production volume of 1.03 tons in 2014.
Yuan said the plantings of hybrid rice reached 17 million hectares in recent years, accounting for about 57 percent of the country's total rice acreage.
The average production volume of rice nationwide is 6.4 tons per hectare, while that of hybrid rice stands at 7.5 tons.
Yuan is also developing a new strain of saltwater-resistant rice that could yield up to 4.5 tons per hectare - about 60 percent of the yield from regular paddies.
His team, meanwhile, is looking to sell the new strain to the world's major rice-growing countries, according to a team member who asked not to be identified.
"The high adaptability of the third generation has made the worldwide promotion of hybrid rice possible," he said, adding that difficulties related to breeding the second generation of rice had made its promotion virtually impossible, despite its record-high yield.
The company will look to breed rice seeds in destination countries, which could lower the cost of the breeding process even further, the team member said.
Zhang Taolin, vice-minister of agriculture, said in a news briefing last year that the ministry will conduct more comprehensive assessments of hybrid rice varieties, including their yields and the adaptability of such varieties to different growing environments, including resilience to disease and insects.
He insisted that hybrid rice remains an important part of the national strategy to ensure grain security.