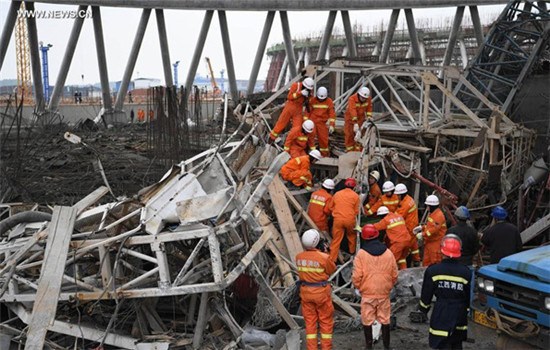 Rescuers work at the accident site at the Fengcheng power plant in East China's Jiangxi province, Nov 24, 2016. (Photo/Xinhua)
A further six people were detained Tuesday for their roles in a deadly construction site accident in eastern China's Jiangxi Province, according to the local rescue headquarters.
The headquarters said among the six people in police custody, four were suspected of "major liability in the accident" and two were suspected of "producing and selling shoddy products."
Further details of the suspects were not provided.
A platform for a cooling tower being constructed as part of a power plant collapsed in Fengcheng city on November 24, leaving 74 people dead.
Construction of the cooling tower was part of an expansion of Fengcheng Power Plant, which is owned by Jiangxi Ganneng. The tower was being built by Hebei Yineng Tower Engineering.
Early Monday, local police detained nine people in connection with the accident. Among the detained are the chairman of Hebei Yineng Tower Engineering, and the chief engineer of the construction project.
Further investigation is underway.