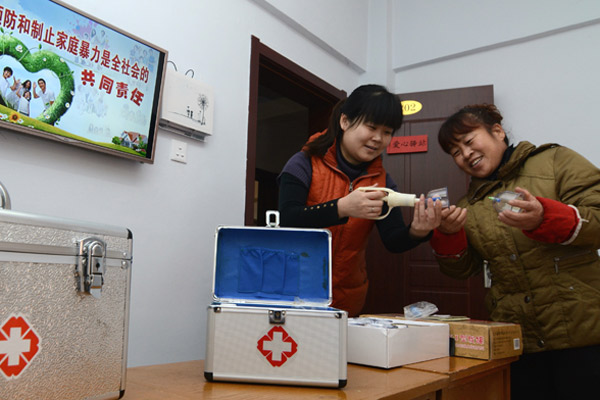 A domestic violence shelter in Jinzhou, Liaoning province, operates 24 hours a day.(Photo by Li Tiecheng/China Daily)
Front-line defenders in the fight against domestic violence hailed China's progress on Thursday at a roundtable discussion in Beijing, one day ahead of the 17th International Day for the Elimination of Violence against Women.
Dozens of participants, including police officers, judges, social workers, local government officials and NGO workers, said the nation's efforts were bolstered by the Anti-Domestic Violence Law that took effect in March.
They also pointed to areas where improvements are needed in putting the law into effect.
Song Xiuyan, vice-president of the All China Women's Federation, which held the discussion, said the law shows China's strong stance in protecting families, women and children.
Evidence of its effect is seen in the 347 legal files where restraining orders were approved, according to court records. These orders, which are new in such cases, are designed to prevent continuation of abuse.
The new law added psychological abuse to domestic violence in an effort to match international standards.
Liu Shuangyu, vice-president of Beijing Third Intermediate People's Court, said despite the updated definition, it is not easy to collect evidence of emotional torture.
Liu added that she finds it challenging to find ways to provide mental care and protection to victims when they go through court procedures.
Xia Yinlan, vice-president of the China Association of Marriage and Family Studies, said the law is just the first step in protecting the victims of domestic violence.
More follow-up education and public campaigns are needed to raise people's awareness and make the law work, Xia said.