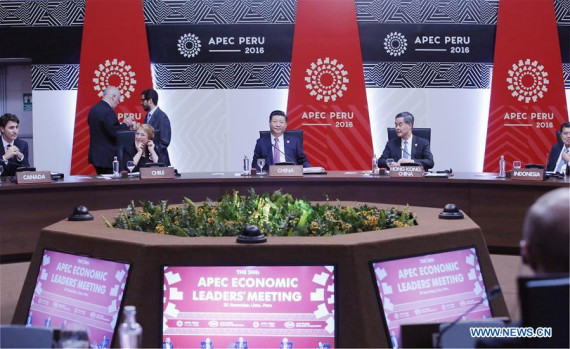 Chinese President Xi Jinping (C) attends the 24th APEC Economic Leaders' Meeting in Lima, Peru, Nov. 20, 2016. (Photo: Xinhua/Ju Peng)
Chinese President Xi Jinping left the Chilean capital of Santiago Wednesday morning after wrapping up his state visits to Ecuador, Peru and Chile, and attendance at the 24th Asia-Pacific Economic Cooperation (APEC) Economic Leaders' Meeting in Lima, Peru. [Special coverage]
It was the third and fourth time for Xi, respectively, to visit Latin America and attend the APEC meeting since his taking office in 2013, through which analysts see a bigger role of China in regional and global affairs.
COMPREHENSIVE STRATEGIC PARTNERSHIPS
During his week-long trip, President Xi held talks with his Ecuadorian counterpart Rafael Correa and Chilean counterpart Michelle Bachelet, and they decided to lift China's relationship with Ecuador and Chile respectively to a comprehensive strategic partnership.
Xi also met his Peruvian counterpart Pedro Pablo Kuczynski and they agreed to further enhance the comprehensive strategic partnership of the two countries, which was established in 2013.
Although there is no clear definition of the "comprehensive strategic partnership," it is usually regarded the highest level in China's diplomatic intimacy with other countries.
Political willingness and the need for economic cooperation are often two pillars, among others, of the partnership, said Zhang Lili, a professor with China Foreign Affairs University.
Ecuador is an important country in Latin America, said Xi, on the first visit by a Chinese president to Ecuador over the past 36 years since the establishment of diplomatic relations.
Echoing Xi, Ecuadorian president Rafael Correa believed that China, as the world's second-largest economy with a high speed of growth, can play a very important role in bolstering Ecuador's development, especially against the backdrop of low oil prices.
Since President Correa came into power in 2007, Ecuador has focused on deepening ties with China. The Ecuadorian president's first official trip to Beijing took place in the same year.
In 2015, on Correa's second China visit, he and Xi agreed to elevate the bilateral ties to the level of strategic partnership, only one year before the upgrade to the latest level.
Economic cooperation grew fast as well. Despite the long distance, China has become Ecuador's third largest trading partner, with two-way trade reaching 4.1 billion U.S. dollars in 2015, quadrupling in just 10 years.
And Ecuador is now a major destination for Chinese investment and financing in Latin America. Chinese investment and financing in Ecuador has exceeded 10 billion dollars, supporting hundreds of projects including major infrastructure projects such as the Coca Codo Sinclair hydropower plant, seven other hydropower plants and a dozen of highways.
On Thursday, President Correa himself went to the Quito airport to welcome the Chinese president. On Friday, Correa saw Xi off at the airport.
Situations may vary in Peru and Chile, but the willingness for cooperation is alike.
Peruvian President Kuczynski visited China in September this year, only six weeks after his inauguration, and two months before Xi's visit to Peru.
During Xi's visit to Chile, China and the Latin American country decided to initiate negotiations on upgrading their free trade agreement (FTA) as soon as possible.
The two countries signed their FTA in 2005. Bilateral trade volume has grown four-fold since the FTA went into effect in 2006. China is now Chile's largest trading partner, its largest export destination and the largest buyer of its copper products.
On Tuesday, Chilean President Bachelet also expressed her country's intention of joining the China-initiated Asian Infrastructure Investment Bank.
"The elevation of the bilateral relationships shows the growing willingness for bilateral cooperation between China and these countries,"said Wu Hongying, director of the Latin America office of the China Institute of Contemporary International Relations.