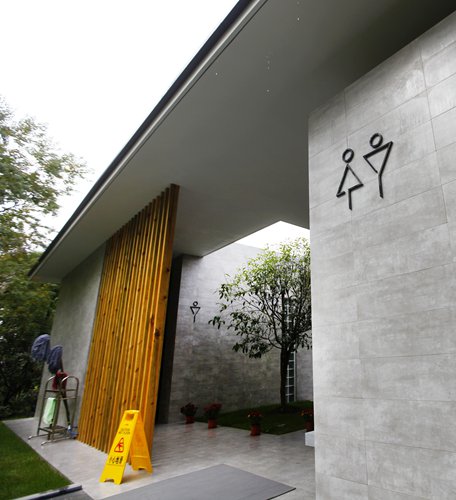 Located in a public park on Pudong South Road, the city's first unisex public bathroom officially will be put to use on Saturday, World Toilet Day. (Photo/GT)
Transgender group in China welcomes unisex bathroom
World Toilet Day falls on Saturday, and in Shanghai, the city's first unisex public bathroom officially will be put to use. Located in a public park on Pudong South Road, the lavatory features 10 stalls that can be used by either gender, to cut the queues in front of the women's toilets. To increase privacy, stall walls stand over 2.8 meters to the ceiling. An LED on the stall door indicates if it is occupied. Moreover, workers are there to supervise operations. The bathroom follows several installed across the nation in the past few years, including in Shenyang, Chongqing, Qingdao and Beijing.
Some people have voiced mixed feelings about unisex toilets, saying that they'll only use them if absolutely necessary, such as when traveling or in a crowded place. Others, however, noted that it eliminates a long-time problem for one community: transgender people.
Many transgendered people, whose gender identity differs from their sex identified at birth, say they have often hesitated to use a public toilet.
In an online conversation, a user going by the name "Transgender f, MtF transgender" explained the dilemma to the Global Times.
"My identity can't be simply described as male or female. I think it is in the middle ground. I would give priority to unisex toilets. If there is no unisex toilet, I will choose based on the clothes I'm wearing, the attitude of my companion and the length of queue," she said.
She said that unisex bathrooms are beneficial to both transgender people and cisgender people - those who identify with the gender as assigned at birth.
She said such toilets can be a means to increasing utilization of the public service, to cut queues at female toilets and to offer convenience to sexual minorities.
Although the public still has concerns of privacy and safety when using unisex toilets, Transgender f, MtF transgender saw no harm of unisex toilets and no relation between toilet crimes and the gender separation in the toilet.
"There is no evidence showing that the Chinese unisex toilets or American unisex toilets have brought more sexual harassment, Peeping Toms or other crimes. In fact, it is difficult for people to conduct crimes in a toilet filled with people. For the less-visited toilets, separating men's toilets from women's toilets may not prevent suspects sneaking in and peeping either."
An Internet user on zhihu.com going by the name Tian Xinhui told the Global Times that he also suffered such problems. Though not transgendered, Tian said he loves cross-dressing. After several times going out dressed as a woman, Tian said he would use a unisex toilet if he were in a woman's clothes.
That said he has also experienced an awkward moment. One time he was spotted by an elderly man while putting on a woman's costume in a public bathroom in a park.
"He was staring at me and following me. I ended up running away," Tian said. "It was awkward to be found disguised in a woman's attire, and I accept this fact."
Tian said he thinks transgendered people belong to a third gender and deserve a toilet of their own.
"The traditional toilets are for traditional genders. In that case neither women's nor men's toilets suit transgender people. The best solution would be a unisex bathroom," Tian said.
Iris, a designer and MtF (male-to-female) transgender, agreed that it was difficult for transgender people to choose bathrooms, especially in the early stages of hormone replacement therapy.
"In the early stage of hormone replacement therapy, I struggled. But later I would go to women's toilets, so as not to scare the men in the men's bathroom out of their wits," said Iris.
Though she has underdone MtF surgery, she still avoids using public bathrooms, for fear of being found out. She finds unisex toilets good because "everyone is equal before the unisex toilets."
"Though some people might worry about Peeping Toms, these downsides can be solved through the design of the bathroom and the law," she said.
Transgender bathrooms
Speaking of the divisive debate across the US over the right of transgender people to access public bathrooms according to their psychological genders, none of the interviewees believed such a debate would take place in China.
Transgender f said that in China, debate of unisex toilets like the ones in the US is never going to happen. "On one side, the equal rights movement for the LGBT group, the awareness of political correctness and awareness of minority groups still haven't reached that level. On the other hand, because of the difference in culture and politics between the nations, there won't be discussions at large scale."
However, she said she doesn't consider transgender bathrooms reasonable. "It is unreasonable to identify psychological gender just by one's own claims, unless one carries the medical evaluation all the time."
Tian also disapproved of choosing toilets according to psychological gender. "Going to a lady's bathroom with male genitals is no different from taking the metro with a sheath. It's against morals," he said, noting that he's never gone to a women's toilet nor even thought about it.
Despite efforts, transgender people are still regarded differently in China from other LGBT people. In the past decade, although many medical institutions have removed homosexuality from lists of mental illness, transgender identity is still categorized as a mental disorder on the WHO's International Classification of Diseases (ICD).
Transgender f said that the acceptance of transgender people is still low in China. "This group is stigmatized, and it's hard to find a job."
The key obstruction, she said, comes from family. "Many young transgender people are out of school and lose financial support from their family. Many of them even face severe domestic violence and poverty. Turned back by schools and communities, many transgender people are forced to work at a young age or even sell their bodies to make living," she said.
Iris said transgender acceptance varies among different age groups. The older people are neutral to transgenders because in their age they did not repel transgender and gay people that much. Many middle-aged people are disdainful of or even repulsed by transgender people because when they were young, much of the developed world wasn't friendly to LGBT people.
Many films smeared and made fun of LGBT groups. The younger generation seems to be more tolerant, curious and empathic toward LGBT people, thanks to the LGBT movement across the world. LGBT groups have earned their deserved respect and rights in many countries, which in turn brings this issue into the public focus, said Iris.
Still, Iris doesn't foresee a wide discussion of transgender people in China. "But it's just as well. We don't need privilege. Please just neglect us and treat us like normal people," Iris said.