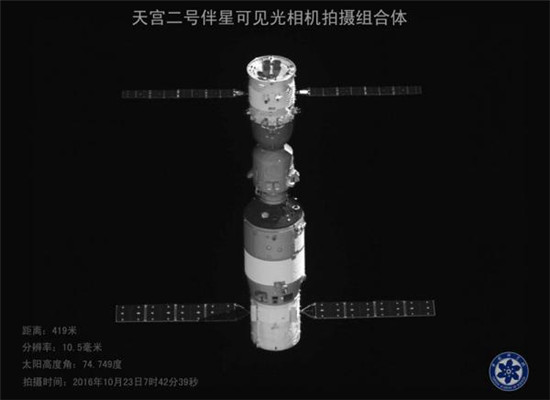 An image sent back by an accompanying satellite shows Shenzhou XI (top) and Tiangong II (bottom) in space on Oct 23, 2016. (Photo/CCTV)
Two Chinese astronauts who have been in space for a month have taken the first steps on their journey back to earth.
Jing Haipeng and Chen Dong, who have worked on the Tiangong II space lab for about one month, have transferred to the re-entry capsule of the Shenzhou XI spacecraft.
The plan is to land in Siziwang Banner in North China's Inner Mongolia autonomous region.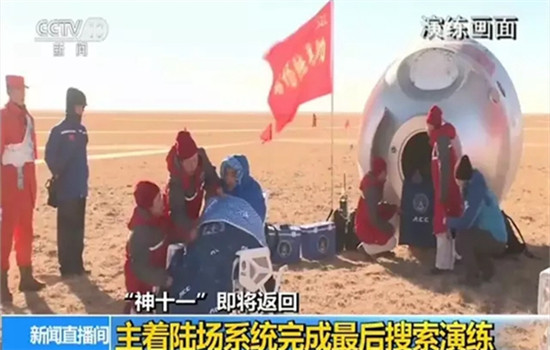 CCTV news shows the main landing site in the Amugulang prairies in Siziwang Banner, North China's Inner Mongolia autonomous region. (Photo/CCTV)
Practice runs to ensure safety
Scientists and rescuers have carried out drills at the main landing site at Siziwang Banner to ensure the safety of the astronauts.
Ground and air crew practised two scenarios. In one, the two astronauts returned safe and well, while in the other, the re-entry module touched down in a toppled-over position.
The rescuers rehearsed the process of astronauts getting out of the module, medical monitoring and support, site management of the re-entry module, and escorting astronauts.
Sparse prairies best spot for landing
The main landing site is in the Amugulang prairies. With an average elevation of 1,400 meters, the area looks like a shallow plate with its edge higher and its hinterland vast and flat.
The condition of the prairies is suitable for landing because the sandy grassland has no river, mountain or valley and its population is less than 10 people per square kilometer. As in the temperate continental climate, it is dry in the spirng, autumn and winter and has a clear sky with high visibility.