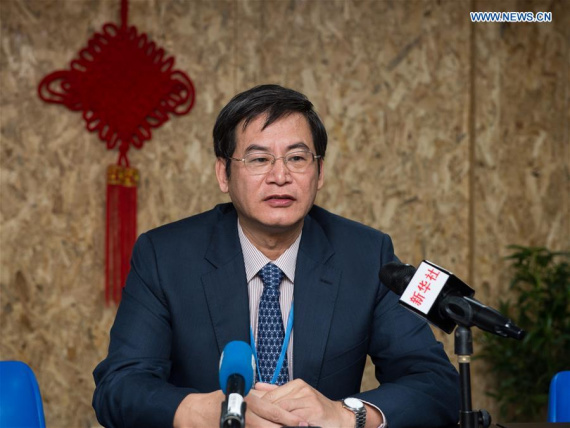 Xie Ji, the deputy chief of Chinese delegation to COP22, speaks during a press conference in Marrakech, Morocco, Nov. 10, 2016. (Photo: Xinhua/Meng Tao)
China is taking much stronger actions on climate change than before, affirmed Xie Ji, deputy chief of Chinese delegation to COP22 in Marrakech of Morocco on Thursday.
During a press conference in COP22, Xie said that China has set up an ambitious target to reach the peaking of CO2 emission around 2030.
"Many cities promised they can reach their peaking before 2030, and a few cities try to achieve the target around 2020," explained Xie, adding that many industries, especially the energy intensive industries, were asked to control CO2 emission and try to reach the peaking around 2020.
On Wednesday, another deputy chief of Chinese delegation to COP22 Gou Haibo confirmed that China would continue to uphold a development concept highlighting innovation, coordination, greenness, openness and sharing.
He underlined that China would act positively and forcefully in maintaining the international mechanism, promoting international cooperation and combating climate change.