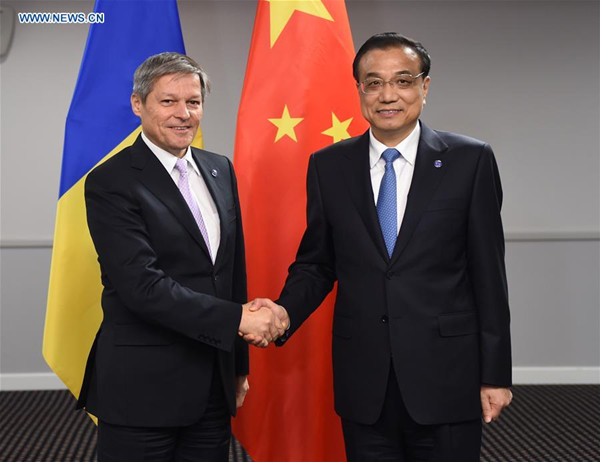 Chinese Premier Li Keqiang (R) meets with Romanian Prime Minister Dacian Ciolos in Riga, capital of Latvia, Nov. 5, 2016. (Xinhua/Xie Huanchi)
China and Romania eyed further cooperation on nuclear energy and thermal power in a meeting between the prime ministers of the two countries in Riga, capital of Latvia, on Saturday evening. [Special coverage]
Chinese Premier Li Keqiang said China attaches high importance to the cooperation with Romania, and is ready to strengthen the integration of the two countries' development strategies, enhance cooperation on nuclear energy, thermal power, deep processing of agricultural products, and promote a balanced growth of the bilateral trade.
He also called for stronger tourism cooperation between the two countries.
Romanian Prime Minister Dacian Ciolos said his country is committed to the friendly cooperation with China.
Romania welcomes Chinese firms to invest in local infrastructure like the ports, cooperate on agriculture and tourism, and promote major cooperation projects on nuclear energy and thermal power, he added.
The meeting was held on the sidelines of the Fifth Summit of China and Central and Eastern European Countries.